Press release
January 27, 2009
Culture
dot-art is delighted to announce the launch of the first exhibition to take place in their new three part display space in Queen Avenue, Castle Street; featuring the work of celebrated Liverpool artist Stephen Collett.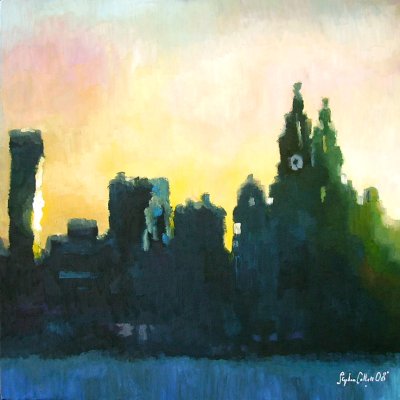 The "Cities" series, which depicts nine of the world's great metropolis's, was developed by Collett in 2008 as a response to Liverpool's year as European Capital of Culture. He says of the concept:

"Our Capital of Culture year gave every artist in Liverpool the chance to produce pieces of work which signified our pride for our city and this is how I see Liverpool, a thriving cultural capital which sits comfortably amongst the great cities of the world...

I wanted these pieces to be recognisable as cities from a distance, yet up close they were slightly abstract and very impressionistic. This is indicative of any cityscape in my opinion, the dominant landmarks forming iconic skylines making every building work in the composition, yet not specifically painting every individual building."

The collection was exhibited in three locations in 2008 and was viewed by over 10 000 people. After a successful year which included solo shows in Liverpool, London, Berlin and New York, Stephen approached dot-art with the idea of auctioning the collection in aid of charity, as a way of both celebrating the success of 2008 for the artist and the city as a whole, and to benefit a range of worthy causes who are struggling in these uncertain times.

Lucy Byrne of dot-art said:
"We are delighted to be involved in this fantastic project, inspired by the generosity of Stephen Collett. His stunning but accessible work has a very wide appeal, and we are confident we can raise significant sums for the charities involved."

All profits from the sale of the collection of nine paintings will go to the following charities, personally selected by the artist: The Painting Project in Rio, The Bedford Road Community Centre, Age Concern and Macmillan Cancer Research. Three additional paintings, all depicting Liverpool have been created specifically for the exhibition, and will also be available to buy.

The entire collection will be available to view at dot-art, 16 Queen Avenue, Castle Street from the 2nd February - 2nd March, and online at www.dot-art.com. The Charity Auction will take place on Wednesday 4th March at 62 Castle Street Hotel, from 6-8pm. Please call 0845 0176660 for more details.

ENDS -

Pictures available on request.

For more details, please contact:
Lucy Byrne, Director, dot-art
T: 0845 0176660 M: 07976 723796 E: [email protected]



Notes to editors.
dot-art is a Liverpool based art gallery and consultants which exists to make affordable original art accessible to all and help artists promote and sell their work.

We offer a comprehensive, flexible and affordable service to our corporate clients, from consultancy and sourcing to framing and hanging. Work can be acquired on a purchase, commission or rental basis, and can be built into wider marketing, branding or CSR objectives using a variety of bespoke approaches, including exhibitions, artist talks, promotional launches or events and staff workshops.

dot-art functions in a unique fashion, operating a membership system which gives artists a range of benefits including their own web page, exhibition and promotional opportunities, access to sales and rental avenues, as well as help and advice, networking events and discounts on art supplies and framing.


See www.dot-art.com for more information.
Contacts
---
Subjects
---
Culture