Press release
July 19, 2010
Lifestyle
A new campaign to unearth hidden talent in the UK is about to reach its grand finale.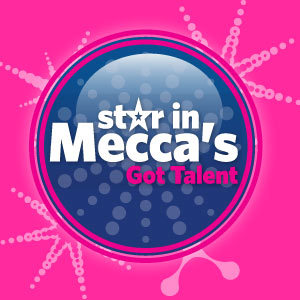 Mecca's Got Talentis a nationwide search for hidden stars – from the bingo partner of Britain's Got Talent™. There's no Simon Cowell, so the finalists need votes from the public to have a chance of being picked as the winner and singing in front of thousands at a major venue.

Now Mecca Bingo invite the great British public to vote for their favourites to win a place in the Mecca's Got Talent Grand Finals in September 2010.
Visit http://www.meccabingo.com/meccas-got-talent/ for all the details on how to vote.

Mecca Bingo are proud to say their online auditions forMecca's Got Talent drew in an amazing response. Although the competition was open to people with all sorts of talents, singers have proved to be the most popular.

The final five are all women and all are talented singers.

About Mecca's Got Talent
The winner will become the Mecca star and receive £3,000 plus the chance to perform live at the Blue Square Bet Premier Play-Off Final.

In addition, all Grand Finalists will also get tickets to the 2011 Britain's Got Talent initial auditions.

Full Terms & Conditions can be found at http://www.meccabingo.com/meccas-got-talent/
Prizes details are as follows:
· Grand Final Winners - Chance to appear live and perform the act at Wembley Stadium at Blue Square Premier Play-off final in May 2011. If, due to circumstances beyond the control of Mecca Bingo Limited, this event does not take place at Wembley Stadium, the winning act will perform at such alternative venue for this fixture.
· The Mecca's Got Talent promotion is operated by Mecca Bingo Limited, Statesman House, Stafferton Way, Maidenhead, Berkshire SL6 1AY.
About Mecca Bingo
Mecca Bingo is a UK based bingo company, with sites located all across the UK in most major towns and cities. The company also operates Meccabingo.com & Meccagames.com as an extension of the Mecca Bingo brand.
Mecca Bingo is part of the Rank Group.
At Meccabingo.com there is a wide choice of the most popular online bingo games to choose from, along with a community site, including forums and the latest news from the blog.
Mecca Bingo on Twitter: http://twitter.com/mecca_rebecca
Mecca Bingo on Facebook: http://www.facebook.com/MeccaBingo

About Britain's Got Talent
Britain's Got Talent is the UK's highest rated entertainment show of the last 5 years. Airing on ITV, the UK's largest commercial broadcaster, it is produced by talkbackTHAMES (a FremantleMedia company) and Syco TV. The official Britain's Got Talent website, www.itv.com/talent, is produced by talkbackTHAMES digital with ITV and is the online home for Britain's Got Talent 2010. Britain's Got Talent is sponsored by Domino's Pizza.
-ends-
Note to editors - Mecca Bingo Limited are authorised by Fremantle Media Limited to use official Britain's Got Talent branding and imagery for the Mecca's Got Talent competition. However, no other link to the Britain's Got Talent TV show and competition should be inferred.
Contact details:
Nicole Minty
Sponsorship Executive
Rank Interactive
A: 6th Floor | 3 Sheldon Sq | London | W2 6ER
T: +44 (0) 20 7984 4966
E: [email protected]
Contacts
---
Subjects
---
Lifestyle