Press release
May 20, 2010
Agriculture
POLICE RECOMMEND CESAR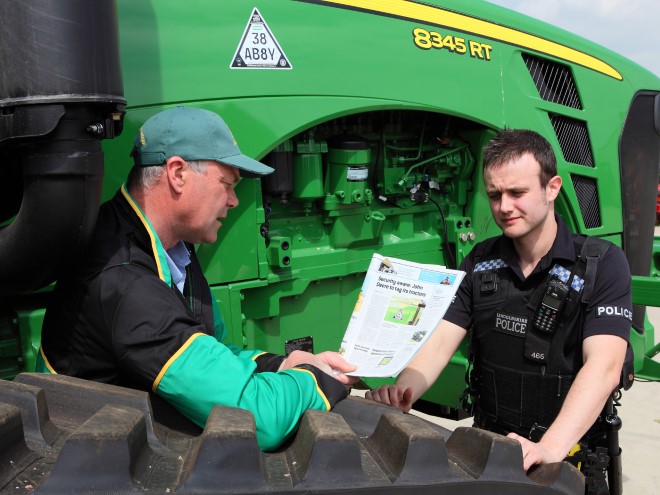 CESAR is proving to be a big help in tackling organised crime in rural areas and now the South Lincolnshire Police force is promoting the adoption of the CESAR security and registration scheme after a spate equipment thefts in their area. PC Dave Sargent, of the local Vehicle Crime Unit, has had 21 tractors reported as stolen, worth over £1.1m, in the past few months, including two £90,000 tractors stolen from a John Deere dealership.
CESAR is widely supported, by amongst others, the Agricultural Engineers Association (AEA), the Construction Equipment Association (CEA), the Home Office, and the British Machinery Insurers Association. CESAR comprises of state of the art identification technology from Datatag and machine registration on the only official security register. This gives each CESAR registered machine a permanent and unique identity, just like a finger print, which acts as a powerful deterrent against theft and an invaluable aid in recovery in the unlikely event of theft. Over 30,000 machines are protected by CESAR with more being added to the scheme every month from the major equipment manufacturers.
CESAR is made up of 4 elements. Firstly, the machine is fitted with 4 tamper proof triangular registration plates, which are securely fitted to the machine; with the machines own unique identification number. Secondly, a number of RFID transponders, each the size of a grain of rice, are hidden in the machinery each with its own unique programmed code. Thirdly, the machine has patches of forensic liquid DNA painted on to it in a number of locations. The liquid DNA has microscopic Datatdots® suspended in it which are invisible to the eye. It's literally impossible for thieves to remove all the tell tail identification traces from a CESAR registered machine. Fourthly, lifetime machine registration, on Datatag's secure database, which gives the police and other official agencies 24/7 access to the registration information which is an important aid in identification and recovery.
Modern tractors are sophisticated machines, costing from £50,000 to £200,000. There is a huge international market for stolen agricultural equipment, with machines 'stolen to order' and shipped abroad with hours of being stolen. Lincolnshire Police is working closely with neighbouring forces and the Plant and Agricultural National Intelligence (PANIU) unit of the 'Met Police' to raise awareness of the problem and to tackle the organised criminals.
Statistics compiled by the insurance industry funded PANIU show that CESAR registered machines are 6 times more likely to be recovered in the event of theft than unregistered machines, and 4 times less likely to be stolen in the first place.
PC Dave Sargent said: "Unfortunately agricultural equipment theft is now a very serious issue in our area and we need farmers and the public to be more vigilant to prevent further thefts and to help us catch these organised criminals. If anyone sees a tractor on the road in the evening, possibly in convoy with another vehicle, then please call the police with the registration details". He went on to say: "Machinery thefts are a huge blow to farmers and the local rural economy as a whole and we need to work together to tackle the problem. However, farmers have a responsibility to protect their equipment and keeping machines locked and the keys safe are simple but effective steps. Our strong recommendation is that farmers fit CESAR to their tractors as this has proven to be a powerful deterrent against theft and it pays for itself with insurance premium discounts".
Local famers are taking police advice and to date nearly 200 tractors and telescopic handlers have been fitted with CESAR by local John Deere dealer Bourne Tractors that are actively promoting CESAR to their many customers as well as fitting CESAR to all the new John Deere tractors that they deliver.
As a final benefit to machine owners many of the leading insurance companies, including NFU Mutual, offer substantial insurance premium discounts for equipment fitted with CESAR.
See the web site for more details at www.cesarscheme.org
ENDS
Image copyright Datatag ID Limited shows (on the left) David Kreutzberger of Bourne Tractors and PC Dave Sargent of South Lincolnshire Police
Subjects
---
Agriculture