Press release
December 5, 2010
Agriculture
OVERBURY FARMS HAILS CESAR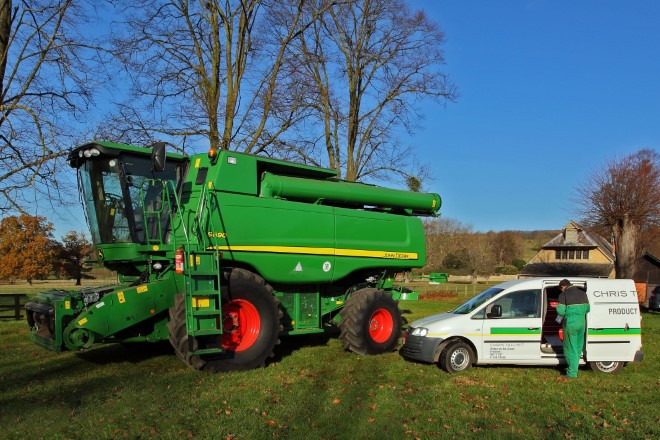 Farm Manager Jake Freestone is an excellent example of a modern, professional farm manager who is equally at home updating the farm's web site, farm Facebook page, or his own personal blog (www.farmerjakef.blogspot.com) as he is buying and selling sheep or managing his team of 5. Jake keeps his finger on the pulse of farm life and is well aware of the challenges of managing a large business. And so after reading the Farmers Weekly security supplement, and aware of equipment thefts in the immediate area, Jake decided to act. Calling in local John Deere dealer, Chris Tallis Farm Machinery, Jake has had the farm's fleet of 3 John Deere tractors, a £120,000 John Deere S690 combine harvester and a JCB telescopic handler CESAR marked as a deterrent against theft. Jake and his team are taking other precautions but CESAR registration, which quickly pays for itself through insurance premium discounts, is a proven overt deterrent and an invaluable aid in recovery, in the unlikely event of theft.
Equipment theft is a growing problem with organised gangs stealing high value machines to order. In the past 2 years 11,174 construction and agricultural machines were reported as stolen, over 465 machines per month! The gangs target farms and even machinery dealers. Chris Tallis Farm Machinery had 4 John Deere tractors stolen from their premises in one night but fortunately the machines, worth over £400,000, were recovered by customs officials and the police before they were 'exported'.
Overbury Farms, on the Overbury Estate, is set on the historic Cotswold slopes of Bredon Hill in Worcestershire. Overbury Farms is a sheep and arable farm covering 1,538 hectares surrounding the picturesque villages of Overbury and Conderton. The farm grows wheat, barley, feed beans, oil seed rape, and grass. The farm runs to almost 330m on the summit of Bredon Hill and has about 650mm of rain each year. The 1,200 strong sheep flock is made of up of North Country Mules and some home bred North Country Mules crossed with a Texel ram. The sheep play an important role in the arable rotation, as mobile fertiliser spreaders, returning organic matter to the thin land during the winter months.
Since its inception in 2007 only 299 CESAR registered machines have been reported as stolen. This equates to just 0.75% of the 40,000 machines registered on the CESAR secure database. This proves beyond doubt that CESAR is a powerful deterrent against theft and that the organised criminals behind the majority of equipment thefts avoid CESAR registered machines. Of the 299 machines stolen, 85 have been located, positively identified, and recovered. The recovery rate for CESAR registered machines is 28.4% compared to a recovery rate of just 5% prior to the introduction of the CESAR scheme.
The official CESAR scheme was designed in conjunction with the police and the insurance industry. CESAR is made up of 4 elements that incorporate 3 Datatag security technologies, giving each machine a unique 'fingerprint'. Firstly, the machine is fitted with 4 tamper proof triangular registration plates, which are securely fitted to the chassis and body; with the machines own unique identification number. Secondly, a number of RFID transponders, each the size of a grain of rice, are hidden in the machinery each with its own unique programmed code. Thirdly, the machine has patches of unique Datatag forensic liquid DNA painted on to it in a number of locations. The liquid DNA has microscopic Datatdots® suspended in it which are invisible to the eye. It's literally impossible for thieves to remove all the tell-tale identification traces from a CESAR registered machine. Fourthly, lifetime machine registration, on Datatag's secure database, which gives the police and other official agencies 24/7 access to the registration information which is an important aid in identification and recovery.
Fitting CESAR, with the Datatag 3 stage security system, takes about an hour and once fitted, for a one-off cost, a machine is protected for life. The cost of fitment, which ranges from £120-£150 depending on location, can soon be recovered with insurance premium discounts and on larger machines, combine harvesters for example; the discount can exceed the cost of fitting the system.
The last word should go to Jake who comments, "We've a lot of vital equipment on the farm and we cannot afford disruption to our busy routines and so after reading the Farmers Weekly security supplement I decided to install Datatag security technology on 5 pieces of equipment. We use mainly John Deere machines and so it was ideal that Chris Tallis Farm Machinery could install the security kit CESAR register the machines. We insure with NFU Mutual which gives a good discount on CESAR equipped machinery and so we will recoup the cost in a couple of years and we'll be far more secure. It's a 'no-brainer' really."
CESAR is proving its worth in more ways than one!
See the web site, for more details, at www.christallis.co.uk call 01386 48600 or contact [email protected]
ENDS
Image © 2010 Datatag ID Limited-permission for reproduction, in print or on the internet, in the context of this release is granted.
Issued by Dark Arts Marketing Limited on behalf of Datatag ID Limited.
Contact, John Bradley. [email protected] 01332 856323 or 07872 600 868
Or Faye Coton. [email protected] 01332 856999 or 07855 053 081
Subjects
---
Agriculture