Press release
April 28, 2009
Construction
NEW THATCHAM SCHEME GIVES CESAR A STAR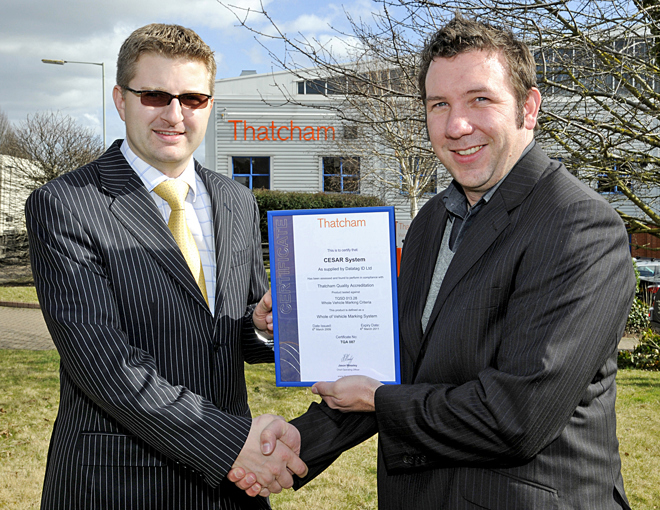 Datatag ID Limited, a market leader in security marking and the power behind the Construction Equipment Security and Registration scheme (CESAR) has gained a prestigious Quality Assurance Accreditation from Thatcham, the Motor Insurance Repair Research Centre for its vehicle identification and registration system-CESAR.
Thatcham has had a 5 star rating scale for vehicle security for some time but the rating for construction equipment was only announced at New Scotland Yard in March. The Insurance industry is behind this initiative as they continue to strive to reduce plant theft and improve recovery rates. The Thatcham star rating scheme for construction equipment provides an indication of the quality of design and anticipated effectiveness of plant equipment anti-theft measures and is based on the following 5 critical security points:
1. Vehicle identification and registration with the official CESAR scheme.
2. Key security.
3. Thatcham approved engine immobiliser.
4. Peripheral security.
5. After-theft satellite tracking system to Thatcham category 5.
Datatag has achieved 'star' status for its innovative and unique vehicle identification and registration system-CESAR. The Datatag system acts as the most powerful of deterrents and includes at least 2 triangular 'tamper proof' registration plates with a unique vehicle identification number, a number of hidden miniature transponders, invisible forensic liquid DNA and last but not least hundreds of Datadots ® that are virtually impossible to find and remove. Crucially, and uniquely, CESAR registers equipment on the DVLA's Off Road Register (ORR) which gives the Police instant access to the data via the Police National Computer (PNC). Datatag is accredited to ISO 9000:2000 and LPS 1224 standards. Its database has "Secured by Design" status under ACPO and Home Office accreditation, one of the highest security accreditation. CESAR is reckoned to be the most cost effective solution in gaining a star rating.
The Datatag system, technology and administration were examined in detail before the star was awarded. Thatcham's professional examiners put the system 'through the mill' testing its ability to withstand high temperatures, harsh environments and manual destruction. Datatag came through this critical examination with flying colours achieving the star status at the end of Thatcham process.
A 'digger' is now 44% more likely to be stolen than a car in the UK and recovery rates are as low as 5% for construction equipment compared to over 54% for cars. CESAR the official Construction Equipment Security and Registration scheme is credited with reducing plant theft and aiding recovery by a factor of 6.
Thatcham's Vehicle Security specialists will carry out a full New Vehicle Security Assessment (NVSA P) on all agricultural and construction equipment submitted for assessment and will award stars, one for each of the security features that meet the required standards. Any equipment submitted that has CESAR fitted as standard will 'automatically' be awarded 1 star.
Although publicly available via Thatcham's website the star ratings will primarily act as a tool for insurers to evaluate risk on a particular piece of equipment. Thatcham's recommend minimum standard, representing adequate security levels is 3 stars, and manufacturers will have to achieve at least this level in order to be viewed favourably by insurers.
Speaking at the specially arranged briefing at Scotland Yard, Mike Briggs, Vehicle Security Manager at Thatcham, said "The launch of the new star ratings is an important breakthrough for the plant industry. Not only does it indicate how seriously insurers are taking the issue of plant theft, but it will begin to drive improvements in standard fit security through manufacturers and therefore to address some of the shocking plant theft statistics that we are currently seeing."
Chris Harrison, Sales Manager of Datatag had this to say when awarded the certificate: "We're clearly delighted to have our unique security and registration product recognised by Thatcham after an exhaustive evaluation. We already have most of the leading construction equipment brands, including JCB, Hanix, Takeuchi, Merlo and Manitou, using CESAR but with this new initiative by Thatcham we hope to add to the list in the coming months".
Ends
Subjects
---
Construction