Press release
November 5, 2009
Agriculture
CONSTRUCTION EQUIPMENT ASSOCIATION AND AGRICULTURAL EQUIPMENT ASSOCIATION REACH AGREEMENT OVER CESAR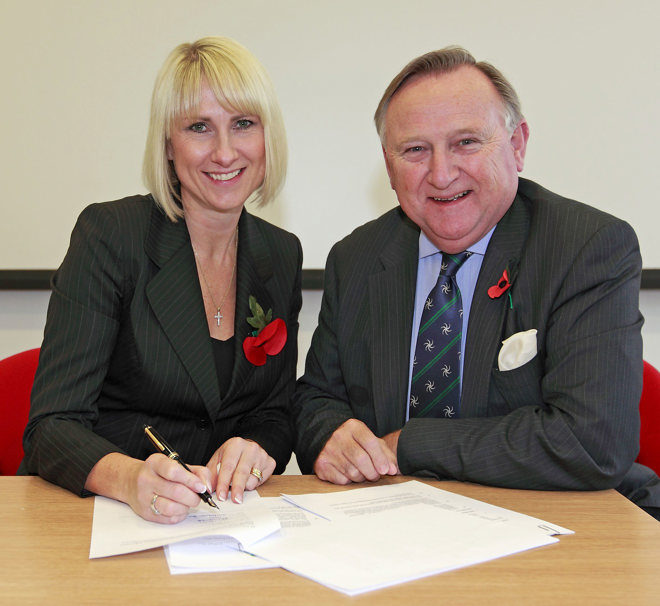 The Agricultural Engineers Association (AEA) has just announced that it has adopted CESAR® as its official security and registration scheme. Roger Lane-Nott, Chief Executive of the AEA, and Yvette Henshall-Bell (a Director of the CEA) signed an agreement between the AEA and the Construction Equipment Association (which owns the CESAR trade mark), during the fifth annual Construction Industry Thefts Solution conference held at the JCB world headquarters.
Originally established in February 2007 as a registration and security scheme for construction equipment, CESAR® is supported by many major machinery manufacturers including Manitou, Merlo, Bobcat, Hanix, Doosan and JCB, which fit CESAR® to all the machines they supply in the UK. In addition, Merlo and Manitou already include machines sold into agricultural applications.
Over 25,000 machines are registered on the scheme and the triangular registration plate is now a familiar sight in construction. A number of leading agricultural equipment manufacturers are expected to announce shortly that they will be fitting CESAR® to machines supplied in the UK.
Roger Lane-Nott added the support of AEA to an already successful scheme; "The CESAR® scheme gives the agricultural industry and the police a the upper hand in fighting organised criminals that target agricultural equipment. CESAR® is a powerful deterrent against machinery theft and it gives farmers, contractors and the police 'state of the art' identification technology that significantly increases the chances of recovery in the event of theft. I am delighted to announce that the AEA is getting behind the scheme in order to combat organised and opportunistic equipment theft which is a real issue in the agricultural market. It is not acceptable to have criminals targeting hard working farmers and their families".
New statistics issued by the 'Met' Police show that a machine without CESAR® is 4 times more likely to be stolen than a registered machines. To date just over 160 CESAR® registered machines have been stolen out of the total 25,000 registrations. The recovery rate for 'unregistered' plant is as low as 5% but the recovery rate for stolen CESAR® machines has increased to nearly 30% in 2009, 6 times that for 'unregistered' plant.
Kevin Howells, Director of Datatag ID and an expert on machinery theft prevention and recovery has this to say at the signing; "I'm clearly delighted that the AEA has put their considerable weight behind the CESAR® scheme but there is plenty more work to do in educating the industry regarding the real threat of machinery theft, which not only disrupts a farmer's business but which can also adversely affect the safety of the family and staff. There are, however, still many companies that are yet to adopt CESAR® which is holding back the overall effectiveness of a scheme, supported by the Home Office and the Association of Chief Police Officers, which has all-round benefits to the industry as a whole. We should all see machinery theft and security in a similar light to safety - namely an issue for everyone to tackle with the proper focus, resources, training and motivation".
As well as adopting the CESAR® scheme the AEA has also announced that it is liaising with the Plant and Agricultural National Intelligence Unit (PANIU) to aid the recovery of stolen agricultural equipment. This specialist police unit, led by Chief Inspector Will Young, is responsible for national intelligence and for co-ordinating activities between the various UK police constabularies. PANIU also liaises with foreign police bureaus to track stolen equipment from the UK, establish its true identity and repatriate it. The unit held its first national conference, alongside the CITS conference, with over 200 police officers attending from across the UK. PANIU has had considerable success already and it has recovered £650,000 worth of stolen equipment in the last 3 months, including a number of agricultural tractors.
The Plant and Agricultural National Intelligence Unit is also financially supported by six leading insurance companies (Allianz, HSB Engineering Insurance Ltd, Aviva, Royal & Sun Alliance, Zurich and, most recently, NFU Mutual).
As a final benefit to farmers, insurance premium discounts are available from leading insurers for machines fitted with CESAR®, which offsets the cost of fitting the system to existing machines.
For more information go to www.cesarscheme.org
ENDS
Editor's notes
Datatag ID Limited, a market leader, is a privately owned British company that has operated in the security market since 1992. Its products have helped to drastically reduce the rates of stolen property. Datatag security markings and systems are widely used on motorcycles, scooters, bicycles, boats, jet skis and agricultural and construction equipment. Illustrating the effectiveness of Datatag security products the UK Crown Prosecution Service has a 100% successful prosecution record where Datatag has been used as evidence in court. Critically, Datatag provides a telephone service to the Police and its customers, 24 hours a day, 7 days a week enabling marked equipment to be identified. Datatag supply a range of security marking products including Datadots®, Datatag DNA and a variety of transponders or 'tags'. In the construction market Datatag manages the CESAR® equipment registration scheme. CESAR® is owned by the Construction Equipment Association (CEA), with the support of the Plant Theft Action Group (PTAG), the Home Office, the Association of Chief Police Officers (ACPO), major insurance companies and local authorities. CESAR® is a dedicated scheme designed to significantly reduce the theft of construction and other equipment, both large and small, and to aid recovery in the event of theft. CESAR® offers a positive opportunity for all construction and agricultural equipment manufacturers, machinery dealers, plant hirers and owners to register their equipment under a single scheme. Crucially CESAR® registers equipment on the DVLA Off Road Register (ORR) which gives the Police instant access to the data via the Police National Computer (PNC). Datatag is accredited to ISO 9000:2000 and LPS 1224 standards. Its database has "Secured by Design" status under ACPO and Home Office accreditation, one of the highest security accreditations in the UK.
Datatag®, Datadots® and CESAR® are registered trademarks.
For more information please visit
Image(s) © 2009 Datatag ID Limited. Permission for reproduction in connection with this press release is granted.
Issued by Dark Arts Marketing Limited on behalf of Datatag ID Limited.
Contact, John Bradley. [email protected] 01332 856323 or 07872 600 868
Or Faye Coton. [email protected] 01332 856999 or 07855 053081
Subjects
---
Agriculture