Press release
December 22, 2010
Construction
CESAR SCHEME HAS RECORD YEAR IN 2010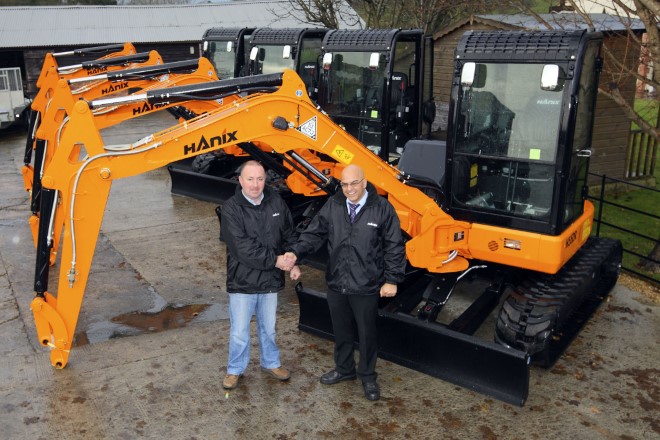 The 40,000th CESAR registered machine, a Hanix H55DR mini-excavator, was delivered to its new owner as part of an order for 4 identical machines in December by Oswald Record Plant Sales of Birmingham. The Hanix customer, Michael McKenna Plant Hire, operates from a rural base near Oswestry in Shropshire and runs a wide ranging fleet of equipment including tracked excavators, backhoe-loaders, and mini-excavators used in civil engineering, land drainage, and landscaping.
CESAR, the official construction and agricultural equipment security and registration scheme, is going from strength to strength and with 40,000 registered machines working in construction and agriculture the scheme is the largest, and most successful, of its type anywhere in the world. 2010 has proved to be the most successful year for CESAR, since its inception in 2007, with over 15,000 machines registered. Recent police figures show that over 100 machines, worth over £1.5 million, are stolen in the UK every week and so CESAR is essential to ensure that machines have a powerful deterrent against theft and an invaluable aid to recovery, in the unlikely event of theft.
CESAR acts as a deterrent against theft as thieves recognise the distinctive triangular registration plate and know that each CESAR registered machine has its own unique 'fingerprint' that cannot be removed. The official CESAR scheme was designed in conjunction with the police and the insurance industry, and so it was effective from day one. CESAR is made up of 4 elements. Firstly, the machine is fitted with a number of overt tamper evident triangular registration plates, which are securely fitted to the machine; with the machines own unique identification and registration number. Secondly, a number of Radio-frequency identification (RFID) transponders, each the size of a grain of rice, are hidden in the machine, each with its own unique programmed code linked to the registration number. Thirdly, the machine has patches of forensic liquid DNA painted on to it in a number of locations. The liquid DNA has microscopic Datatdots® suspended in it which are invisible to the naked eye. It's literally impossible for thieves to remove all the tell-tale identification traces from a CESAR registered machine. Fourthly, lifetime machine registration, on Datatag's secure database, which gives the police and other official agencies 24/7 access to the registration information which is an important aid in identification and recovery.
Since its inception, in 2007, only 299 CESAR registered machines have been reported as stolen. This equates to just 0.75% of the 40,000 machines registered on the CESAR secure database. This proves beyond doubt that CESAR is a powerful deterrent against theft and that the organised criminals behind the majority of equipment thefts avoid CESAR registered machines.
Of the 299 stolen machines 85 have been located, positively identified, and recovered. The recovery rate for CESAR registered machines is 28.4% compared to the previous figure of just 5% prior to the introduction of the CESAR scheme. One reason why CESAR recovery is so much higher is that it's secure database is integrated into European and international police operations. As soon as a CESAR registered machine is reported as stolen the details are automatically circulated to 187 countries around the world. CESAR registered machines have been recovered from as far a field as Poland, Lithuania and, the United Arab Emirates. The significantly better recovery rate for CESAR registered machines translates into to significant reduction in losses for UK Insurers, to the tune of over £170 million per year. This allows leading insurers including Zurich, Allianz, NFU Mutual, RSA, Aviva and HSB Engineering Insurance to give insurance premium discounts of up to 25% for CESAR registration, making CESAR a viable investment, even in the aftermarket where insurance premium discounts, on larger machines, can exceed the cost of fitment.
For more information go to: www.cesarscheme.org
[Image shows (left) Michael McKenna and (right) Kevin Pawley of Oswald Record Plant Sales the local Hanix dealer]
ENDS
Image © 2010 Datatag ID Limited-permission for reproduction, in print or on the internet, in the context of this release is granted.
Issued by Dark Arts Marketing Limited on behalf of Datatag ID Limited.
Contact, John Bradley. [email protected] 01332 856323 or 07872 600 868
Or Faye Coton. [email protected] 01332 856999 or 07855 053 081
Subjects
---
Construction