Press release
May 27, 2009
Motor & Transport
Team looking for finishes at Cheshire track.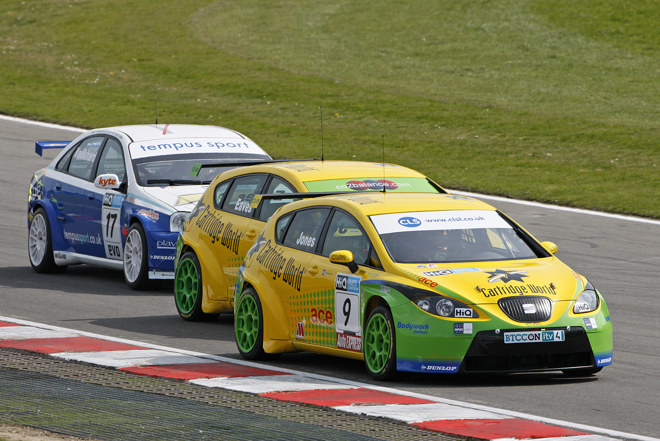 Cartridge World Carbon Zero Racing and drivers Adam Jones and Dan Eaves have had mixed fortunes this season but the new team is in 4th position in the Independent Teams standings as they head north to the picturesque Cheshire circuit. Adam Jones is 4th in the Independent Drivers Championship and 7th in the overall table whilst Dan Eaves, after a run of 6 no scores at Thruxton and Donington, is 12th and 14th in the Independent's and Overall Drivers Championships respectively.
Dan Eaves qualified 3rd on the grid and scored two podium places (both 3rd) at his last appearance at the Oulton Park circuit in 2005 and so he's looking forward to the opportunity to show his speed and race-craft this coming weekend. Dan comments: "I still can't believe how the last two weekends have gone. I don't want to say too much in case I jinx next weekend but I'm surely due for some good luck at Oulton? It's a circuit that suits my driving style, so given a good Saturday , I am confident that I will be in the points on Sunday."
Adam Jones got his wish at Donington when the rain came down! A smart strategic move, fitting dry 'slick' tyres to the front of the car, in race 3 when starting from 3rd on the grid could have paid dividends but a 'kiss' from Colin Turkington, as the drivers braked for the first corner at Redgate, put Adam into the gravel trap and out of the race. Adam comments: "Its been a busy time since we left Donington. The car needed some work on it after the last race and the guys have been working on it and we're now ready to go. The objective for Oulton is to bring the car home in the points for each race and work with Dan and the team to maximise our points finishes. It's obviously better to be out there with your team mate, it makes the race strategy less complicated."
The Cartridge World Carbon Zero Racing Team has already made its mark on the championship proving that they can run with the 'big boys'. The team will be hoping that lady luck is a little kinder at Oulton Park so the two very competitive drivers can show their true mettle.
The Cartridge World Carbon Zero Racing Team race two beautifully prepared E85 bio-ethanol powered SEAT Leon's proving that concern for the environment doesn't come with a penalty. Cartridge World, the team's title sponsor has proved that their refilled cartridges are equal to the originals with no compromise on quality. And now the racing team that carries their name is proving to be equally competitive. Live TV coverage will be available on ITV4 with all 3 BTCC races being shown 'live'.
ENDS
Issued by Dark Arts Marketing on behalf of Cartridge World.
Images © 2009 Cartridge World. Permission for the reproduction of these images in conjunction with this release is granted.
Contact John Bradley. [email protected]
Tel 01332 856 999 or 07872 600 868.
Or Faye Coton. [email protected]
Tel 01332 856 999 or 07872 600 865.
Subjects
---
Motor & Transport