Press release
February 14, 2012
Culture
Mathew Alderman American Liturgical Illustrator and Designer joins Lightworks Stained Glass to turn his illustrated cartoons into Stained Glass.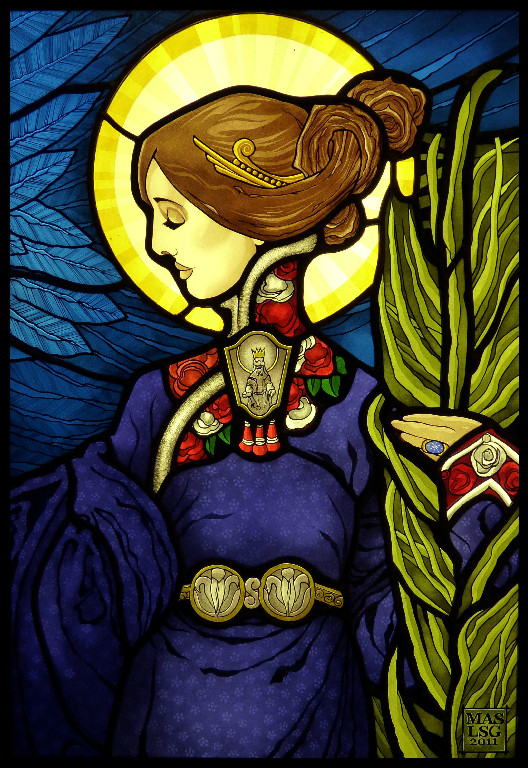 Lightworks Stained Glass, Clitheroe based designers of beautiful stained glass recently came across the creative work of American Liturgical Illustrator and designer Mathew Alderman. Inspired by the work of Mathew, Daniel Burke Owner and founder of Lightworks Stained Glass contacted the artist to ask if he would be interested in turning his cartoons into stained glass. Excited at the prospect of seeing one of his original pieces of work transformed into stained glass the artist immediately gave permission for Lightworks to begin work on a panel sample.
Daniel Burke said "We came across Mathew's work by pure chance, always looking for bespoke designs it immediately struck us how perfect these cartoons would look transformed into stained glass" he went on to say "When we originally made contact with Mathew he told us that he had been very much inspired by the Irish Stained Glass Artist, Harry Clarke so he was very excited about seeing his work as a stained glass design."
The result is stunning (see attached file), the illustration is entitled "St. Cecillia of Rome" and is one of Mathew's original illustrations
The stunning result, seen here on the right, is taken from Matthew's original illustration entitled "St. Cecilia of Rome".

Mathew Alderman is a noted expert and frequent speaker on traditional liturgical planning, church furninsh design and sacred art, he graduated at Notre Dame's distinguished classical design program and now has studios in Boston, America. When images of the finished panel were sent over to Boston, Matthew had this to say: "You have done a tremendous job you have so much to be proud of, you have taken a tiny sketch and transformed it into a whole new medium and at a much larger scale"

The two companies are now jointly promoting the work with a view to securing future stained glass commissions in both Great Britain and the United States of America. We welcome any enquiries or request's for estimates and will gladly discuss how this exciting new collaboration could be of service to you. Please feel free to call us on 01200 429500 or drop us an email.
Matthew Alderman Studios: www.matthewalderman.com
Contacts
---
Subjects
---
Culture