Press release
April 23, 2009
Motor & Transport
Following the Scrappage Scheme announcement by the Chancellor of the Exchequer, Alistair Darling, in this year's budget, Cartakeback announces that it is well positioned to provide a compliant and professional scrap car collection and recycling service to dealerships and motorists who choose to take part in the scheme.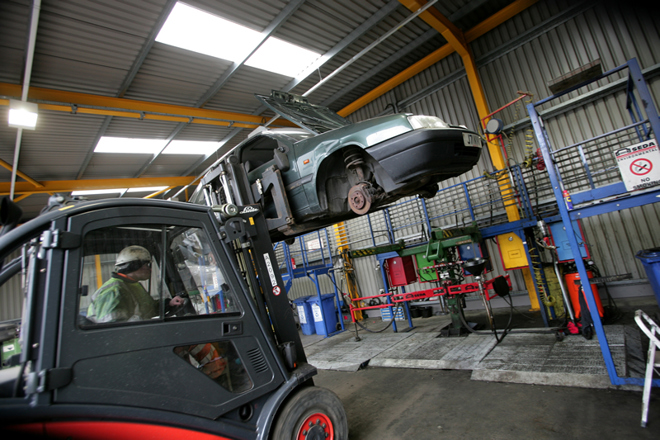 The scrappage scheme, which is intended to support the automotive industry as well as the environment by removing older, more polluting cars from the road, sees £300 million of support, with matched funding to be provided by industry, offered to motorists in the form of a £2,000 discount when they scrap their old car.
As the approved end of life vehicle service provider to vehicle manufacturers representing over 70% of vehicles on the road since the introduction of the end of life vehicle regulations in 2006, Cartakeback is capable of supporting the government initiative by collecting all old cars which are traded in as part of the scheme either from the dealership or the customer's home.
Development manager, Andrew Tromans commented "As the approved service provider for CITROËN we have already seen a significant amount of interest in the CITROËN scrappage scheme which was launched earlier this month which has helped to boost the number of cars being scrapped through the network".
Every scrap car collected through Cartakeback's nationwide collection service will be delivered to a Cartakeback Authorised Treatment Facility where a DVLA Certificate of Destruction will be issued. Dealers will require the Certificate of Destruction to prove that the vehicle has been disposed of correctly and to trigger the scrappage incentive.
Cartakeback Authorised Treatment Facilities are also able to meet the EU recycling target which requires 85% of each vehicle to be recycled. This recycling effort is made up of protocols for fuel and metal which accounts for 76% of the weight of a vehicle, de-pollution which accounts for 4.6% and the balance through the recycling of plastics and glass using post shredder recycling techniques provided by Cartakeback's 10 shredder shareholders. This is not something that all Authorised Treatment Facilities have made the effort to achieve. In a recent letter to Authorised Treatment Facilities, the department for Business Enterprise and Regulatory Reform (BERR) Producer Responsibility Unit who regulate the industry's compliance under the end of life vehicle regulations wrote "This is not an aspirational target, and to miss it is a criminal offence punishable by a fine. It has been clearly shown that the 85% target is achievable."
Cartakeback expects that up to 40% of the vehicles which are de-registered through the DVLA's Certificate of Destruction system will be processed through its nationwide network of 250 ATFs this year.
The scrappage scheme will run from the middle of May until March 2010 however funds are limited so motorists are encouraged to act quickly.
In order to qualify for the scheme, it is expected that the vehicle to be scrapped must:
be a car or light van with a gross vehicle weight of up to 3,500 kg,
be first registered in the UK on or before 31st July 1999,
have either a V5C registration document (logbook) or a Statutory Off Road Notification (SORN) in place with a UK address, which must be in the name of the person purchasing the new vehicle,
have been registered in the name of the person purchasing the new vehicle for at least 12 months, and
have a current MOT test certificate.
It is expected that the new vehicle purchased as part of the scheme must be:
a car or small van weighing up to 3,500 kg,
purchased from a participating dealer,
to UK specification,
declared new at first registration in the UK with no former keepers, and
registered to the same registered keeper as the old vehicle.
Customers can locate their nearest Authorised Treatment Facility or obtain an instant offer for their vehicle to be collected by visiting www.cartakeback.com or by calling 0845 257 32 33.
---ENDS---
---NOTES FOR EDITORS---
Cartakeback.com Limited is trusted by vehicle manufacturers to act as their exclusive service provider in meeting their obligations under the end of life vehicle regulations within the UK. Contracted brands include Alfa Romeo, Alpine, Aston Martin, Audi, Austin, Bentley, Bugatti, Citroen, Dacia, DAF, Datsun, Dodge, Fiat, Fiat Professional, Ford, Hillman, Humber, Hyundai, Iveco, Jaguar, Lamborghini, Lancia, Land Rover, LDV, Leyland, Leyland DAF, Lotus, Matra, Mazda, MG, MG X-Power, Mitsubishi, Morris, Nissan, Perodua, Peugeot, Proton, Renault, Renault Trucks , Riley, Rover, Seat, Simca, Singer, Skoda, SsangYong, Sunbeam, Talbot, Tata, Tatra, Triumph, Volkswagen, Volkswagen Commercial, Volvo and Wolseley, representing over 70% of vehicles on the road.
The Cartakeback network continues to grow and currently consists of around 250 ATFs.
The accessibility criteria set by the regulations require 75% of the population to be within 10 miles of an ATF and the remainder to be within 30 miles of an ATF. Cartakeback has exceeded the accessibility criteria with 90% of the UK population being within 10 miles of a Cartakeback ATF.
Cartakeback is owned equally by 10 UK based shredder operators including Ampthill Metal Company Ltd- Bedfordshire, Christie & Son Metal Merchants Ltd - Glasgow, Clearway Ltd- Belfast, Dunn Bros (1995) Ltd- Birmingham, SITA UK Ltd- Norwich, H. Williams & Sons Ltd- Hertfordshire, John R. Adam & Sons Ltd- Glasgow, RM Supplies Ltd- Inverkeithing, S. Norton & Co Ltd- Liverpool, T.J. Thomson & Son Ltd- Stockton-on-Tees.
All of Cartakeback's press releases can be viewed at www.cartakeback.com/en/press-releases.asp.
Answers to some of the most frequently asked questions and links to several sources of further information are available on the FAQs page of the Cartakeback website at http://www.cartakeback.com/en/faqs.asp.
Subjects
---
Motor & Transport