Press release
November 18, 2009
Music
Business gifts specialists Ad-Options Ltd t/as BusinessGiftUK.com support 'A Night At The Musicals' charity concert which helps to raise £2,600 for Breast Cancer Care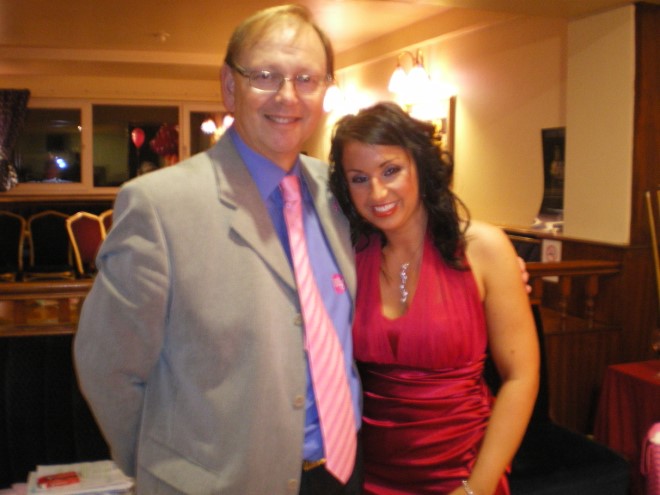 The X Factor was kicked into touch by over 200 local music lovers on Saturday night as they packed out Bamber Bridge FC's functions lounge to enjoy 'A Night At The Musicals' in aid of Breast Cancer Care.

The event, which was the brainchild of talented Eccleston-based vocalist and mother of two Laura Worden, brought together four local singing sensations and a supporting cast of dancing stars to perform their favourite numbers from a variety much-loved stage productions, including Les Miserables, Grease, Evita and Mamma Mia.

A capacity crowd helped to raise an exceptional figure of £2,600 for the cancer awareness charity as they were wowed by Laura and her supporting cast of Catherine Sullivan, a Leyland-based soloist from the St Mary's Church choir, Maria O'Connor, a Parbold-based performer whose grandmother Agnes Soanes was a regular act at the Liverpool Empire Theatre, and Alex Thompson, godson of Bamber Bridge FC's director of football George Halliwell, who, ironically, could have instead been appearing on the competing attraction of The X Factor on the same night, having progressed through five rounds of this year's auditions.

The dance element of the performance was led by 11-year-old Janie Hodge from Penwortham, who has been learning her art for the past seven years with the Anita Murray Dance School in Chorley, with the MC duties conducted by Leyland-based entrepreneur Steve Ward from event sponsors BusinessGiftUK.com.

Laura explained that her decision to organise the event on behalf of Breast Cancer Care stemmed from her experiences as a staff nurse at Euxton Hall Hospital, which is a breast care approved unit, admitting:

"I have met so many special people who are bravely battling this disease, both through my work and experiences of relatives who have received care for the condition. I felt that this would be a fantastic way of helping to raise awareness of the charity's excellent support work whilst also allowing the crowd to enjoy an evening of entertainment in the company of some extremely talented performers.

"I'm overwhelmed with the response we had to this event, and we could have sold far more tickets than the capacity of the venue allowed, selling out weeks ahead of the event and before we'd even planned to launch our publicity campaign!

"The final total of £2,600 is a wonderful reward for all the effort that everyone put in, and we couldn't have done it without all the performers, the volunteers who came along to assist on the night, everyone that came to watch, and our sponsors, who supported us brilliantly."

The extensive list of backers who proudly supported 'A Night At The Musicals' included Peter E Gilkes and Co., Etcetera Boutique at Cedar Farm Galleries, Ultra Health and Beauty of Mawdesley, Justs Ladies Fashion in Penwortham, Accrington and Rossendale College, Avon Cosmetics, Therapy Beauty Spa in Maghull, Darren's Fresh Fish, Estee Lauder at Boots in Preston, Abode Boutique of Tarleton, Diana Glover, The Midge Hall public house, Nickson Cycles of Leyland, Richard Harland, Ad-Options Ltd and Jonwell Hair Studio in Leyland.

Laura singled out one particular sponsor for special praise, Euxton Hall Hospital, thanking her friends and colleagues at the facility for 'their continued and generous support'.

Photo: MC Steve Ward of BusinessGiftUK.com with event organiser and star performer Laura Worden.
Subjects
---
Music