Press release
August 31, 2012
Energy & Environment
Business electricity brokers, Utility Renewals, are expanding their workforce due to increased demand for their fantastic range of money saving energy services in the commercial sector.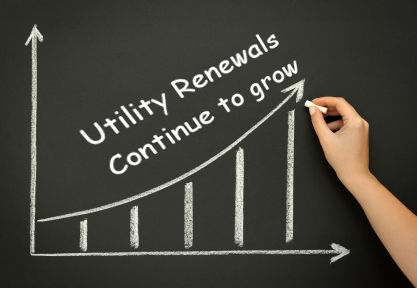 It is always great to hear about any business expanding and despite slow growth in tough financial times. That is exactly what North West based Utility Renewals are doing at this moment in time.
With a solid reputation in the commercial utilities sector for offering their clients fantastic customer service and value for money, it is not surprising that their team are renowned as one of, if not the leading, business electricity brokers in the UK today.
Due to increased demand for business electricity price savings from clients both old and new, Utility Renewals have taken on new staff to ensure that they can not only cope with demand, but also to ensure that they can continue their growth as a business within this challenging sector.
A company representative said: "Having an already solid customer base is one of the factors behind the decision to expand the workforce numbers higher than ever before. There is without doubt going to be increased demand now and in the future due in part to the continued commitment to nuclear power and underwhelming take up of renewable energy projects. It seemed like a smart move to be pro-active and expand to keep Utility Renewals ahead of the game."
As a premier business electricity broker, it is another positive step for both the business and the economy to show that even though there is global economic turmoil in most industries, there are still sectors and opportunities for employment and indeed company growth. Such growth can only continue if businesses put solid plans in place to succeed whilst constantly reacting to sector demand.
The next few months and years should continue to see Utility Renewals increasing their foothold in the business electricity market. For more information on their full range of business electricity services and prices, please visit the website;
http://www.utilityrenewals.com/business-electricity-prices.
Subjects
---
Energy & Environment