Press release
November 19, 2018
Vegetarian
Vegan
Eatplants
Organic
Naturli´
Organic vegan block
Britons find themselves in the midst of a dietary revolution where meat has to give way to plant-based foods on their plates. This is felt particularly by Naturli' Foods who only this summer introduced Britain to Organic Vegan Spreadable and now launches yet another vegan butter product now in block form to be used as a replacement for butter.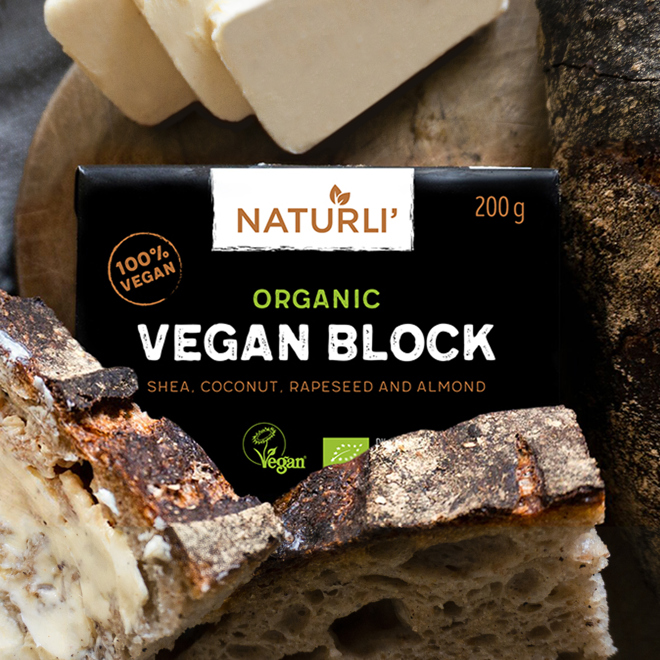 One in eight Britons are now vegetarian or vegan and a further 21% regularly replace meat with plant-based foods (flexitarians)[1]. This creates an enormous demand on the supermarkets for new plant-based basic foods. Danish Naturli' Foods now launching the organic vegan block in Sainsbury's from 21 November, have noted the effects of this.
"Food is just not the same without butter. When we introduced the Britons to the first plant-based alternative to butter this summer, Naturli' Organic Vegan Spreadable, their immediate acceptance of the product was quite overwhelming", says Henrik Lund, CEO of Naturli' Foods.
British consumer debates on Facebook
Henrik Lund has been listening to the British consumers who in large numbers communicate directly with Naturli' Foods via Facebook asking about new products. In 551 messages via Facebook – and a great many of these from British consumers – consumers have asked for the new product, Naturli' Organic Vegan Block, which is about to reach the market through Sainsbury's.
One British consumer, Angela Philips, writes to Naturli' Foods via Facebook: "When will this be available in the UK please. Your spread is a game changer in the vegan butter alternative arena. It is amazing – thank you."
100 per cent plants and organic
The texture of the new product is more solid than spreadable (like a block of butter) and 100 per cent plant-based and organic. The firmer texture of the organic vegan block has been achieved through the use of more shea oil. For the new product, Naturli' Foods uses shea oil (from the shea nut), coconut oil, rapeseed oil, almond butter, carrot juice and citrus juice. The new vegan butter product is the ideal choice to spread on fresh bread, for warm corn, baking, frying – well, actually for all uses where consumers in the 'old days' would use butter.
Sainsbury's have great expectations in the new vegan butter product, according to Graham Barton from the supermarket chain: "After the huge success we have had with the Naturli vegan spreadable version, there was no doubt that we would get in the block version also."
He also adds that the huge interest from consumers on Naturli's Facebook page just confirmed his decision.
From cows and pigs to plants
"Until recently, Denmark was known only for Danish butter and Danish bacon in the UK. Now consumers are seriously in the process of changing this. The future belongs to plants. Consumers act on the basis of their knowledge and opinions. Today, there is a strong desire to do something good for yourself, nature and the environment by consuming far more plants and far less meat," explains Henrik Lund and continues;
"Earlier this year, we launched vegan minced meat and vegan spreadable butter which the Britons have embraced with open arms, and we expect the same reaction for the new vegan block of butter. I believe that in future Denmark will be known for climate-friendly 'meat' and vegan butter."
Facts
Naturli' Organic Vegan Block is produced from organic shea oil (43%), water, organic coconut oil(21%), organic rapeseed oil (11%), salt, organic almond butter (1%), emulsifier (lecithin), organic carrot juice, natural flavour.


You can find the product in the service cases at Sainsbury's from 21 November at the price of 2 £ as the recommended retail price.
After the launch of Naturli' Organic Vegan Block, Naturli' Foods now markets two butter products in the UK the other product being Naturli' Organic Vegan Spreadable. The two products are different in that the texture of Naturli' Organic Vegan Block is more solid due to its higher content of shea oil. In terms of texture, it resembles a block of ordinary butter and is ideal for spreading on bread and also for baking and as garnish for vegetables. In short – whenever you would use otherwise butter.
[1] The Guardian, 1 November 2018
Subjects
---
Vegetarian
Vegan
Eatplants
Organic
Naturli´
Organic vegan block