Press release
October 15, 2012
Family
Mini Social recommends Mamascarf, an award winning discreet and supportive breastfeeding scarf.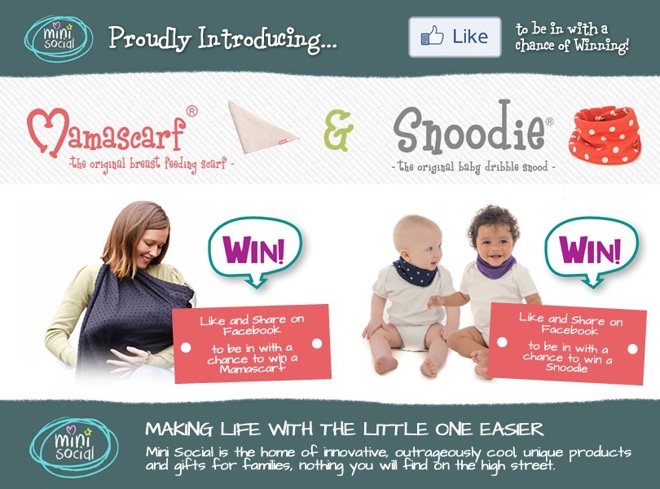 Breastfeeding is completely natural, but for many new mothers it doesn't come naturally, and the thought of feeding in public is enough to put them off.
Invented by a breastfeeding mum for other breastfeeding mums, the Mamascarf and Snoodie are innovative, award-winning, and perfect for mothers to breastfeed discreetly, and to keep dribbly baby dry, clean and happy.
Mini Social introduce products only us as mums would use, a recommendation for new innovative products and solutions for all the family.
The Mamascarf is a breastfeeding scarf/nursing cover, providing comfort, support, discretion and style. It allows you to keep your modesty as a feeding mum, and gain the confidence to feed in public. It's lightweight and easy to use, providing essential support without the need for a cushion or aching arms, lost breast pads or flashing more than you want to. What's more it can be worn as a scarf, or tucked neatly into a bag, and is simply adjusted when baby is ready to feed. It's made of quality 100% cotton and comes in a range of colours for every taste.
Not only can it hide your post pregnancy tummy, but offers a wonderful enclosure for baby, so they are less distracted by the wonderful world around them.
Many mums agree that breastfeeding is one of the most wonderful times a mother and baby spend together.
The Snoodie is a gorgeous soft bib for dribbly babies. It is stylish and practical, adjusts for different sizes easily, and contains an inner absorbent layer making it super absorbent, keeping babies neck, chin and clothes dry. This also comes in a wide range of fab colours, and is suitable from birth.
Never hide in another room again to breastfeed,
Click here for your chance to bag a fabulous Mamascarf and Snoodie.
Subjects
---
Family