Press release
August 12, 2016
Pokemon
Contest
A fake Pokémon that encompasses all the exciting things that accountants do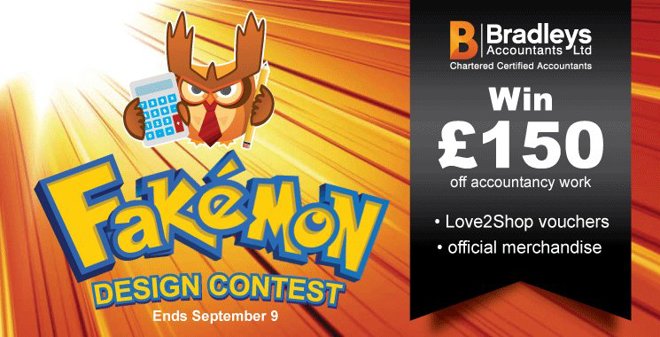 Catching onto the latest craze and demonstrating that accountants are not all dull and boring, Bradleys Accountants is inviting illustrators, artists, graphic designers, design agencies, and creative individuals to a design contest.
The challenge is to design an accountants' Fakémon – a fake Pokémon that encompasses all the exciting things that accountants do like accounting, tax, finances, billing, invoicing, business advice, etc. In return they will receive promotion of their services to thousands of potential clients.
Running for a month the contest will be judged by the firm's Practice Manager, Alan McCappin, (an avid Pokémon fan himself) with the winning entry set to receive a discount of £150 against accountancy service costs, Love2shop vouchers worth £50 and official Bradleys merchandise.
The winner will also receive promotion to thousands of businesses who could be looking for design services via the Bradleys website and client newsletter.
The deadline for submissions is 9 September 2016, and entrants can opt to design Pokémon inspired characters; however, designs must be unique or they will not count as valid entries. The competition guidelines also suggests that details of the winner's design company will be publicized on the home page of the Bradleys Accountants' website for a period of one month from September 16, 2016 and in the October issue of their monthly client newsletter.
With regards to what's expected from the winning entry, the judge, Alan McCappin, said "We will reward the designer whose character best demonstrates the accounting and tax world, plus comes up with a creative description and name of the Fakémon. Their imagination is the limit. For inspiration have a look at our contest page where you can see our own Fakémon for Bradleys called Owléymon."
So if you want to enter the contest to win discounts, vouchers, free business publicity and merchandise, ensure to visit the contest page.
Disclaimer: Please note, the Contest is in no way sponsored, endorsed or administered, or associated with, Pokémon Company International, Inc. Nintendo Co., Ltd. or Niantic, Inc.
Subjects
---
Pokemon
Contest