Press release
June 30, 2010
Construction
O'ROURKE CONSTRUCTION BUY BOMAG BF600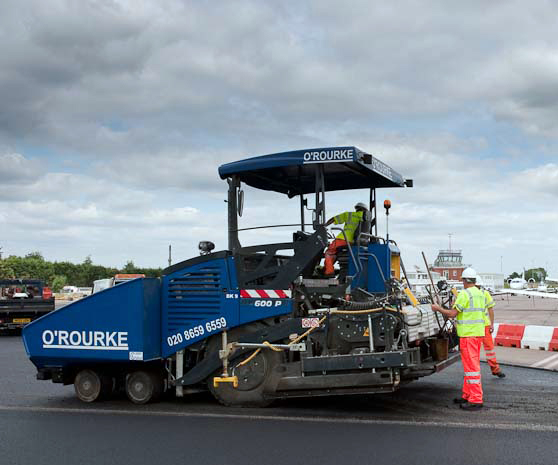 A new BOMAG BF600 paver belonging to O'Rourke Construction, the specialist road surfacing and civil engineering services company, completed important paving work just hours before the 2010 Biggin Hill Air show got off the ground.
O'Rourke Construction, based in London, operates across the South-East region of the UK. The new BF600 is one of Bomag's 'new generation' models designed and developed by Bomag engineers. O'Rourke took delivery of the machine from BOMAG's UK paving dealer AP Pavers in early June.
Kevin Gorman, Managing Director of O'Rourke Construction, had this to say about the recent purchase: "We've used BOMAG compaction machines for some time and know that they're good performers and reliable. When Chris Woodhead (of AP Pavers) told me about the new generation of BOMAG pavers I was immediately interested and when I saw the BF600 I knew it would be ideal for our medium to large sized jobs. The machine is versatile, with a hydraulically adjustable screed, and it gives the operator great all round visibility".
The BOMAG ECOMODE machine management system, fitted to the BF600, optimizes engine power to demand saving fuel and reducing exhaust emissions. The machine uses a 120kW water cooled Deutz engine. The paver's hydraulic system has been redesigned with the aim of increasing efficiency and lowering fuel consumption. This was achieved by eliminating a range of flow dividers which are known to be a drain on energy. Ancillary pumps are now used instead of flow dividers; these directly supply extra functions such as the steering circuit, the folding hoppers, and front wheel drive. The electrical system has a single control and fuse box, conveniently housed in a single accessible box, making servicing and maintenance quick and easy.
Ease of operation and safety were at the forefront in the planning of the operator's platform. The intuitive operating console can rotate and the operator's platform also has the patented SIDEVIEW system whereby the entire platform can be shifted to one side or the other to give the best view of the site. The hard cover folding canopy, with 4 integrated lights, provides very good visibility even at night.
The BF600 is available in a wide variety of configurations including both tracked and wheeled pavers in 2-wheel, 4-wheel and 6-wheel drive form. Both tracked and wheeled versions are available with combination tamping and vibrating gas or electric heated screeds. The BF600 has the option of 2 hydraulically operated variable width screeds giving a working width of 2.5 metres to 4.75 metres or 2.55 metres to 5.0 metres. The maximum possible working width of the BF600 is 7.55 metres, with 4 fixed extensions fitted. Heat-up time is just 20 to 30 minutes from cold.
BOMAG's experienced engineers have ensured even material flow and uniform placement with high levels of asphalt pre-compaction. The hopper, with independently controlled sides, on the BF 600 finisher can hold 7.1m3 of asphalt. The conveyor chains are independently controlled and reversible, as are the augers. The auger sensors can be controlled from the remote control boxes on the screed operator station. This not only provides greater comfort but also an even flow of material.
In the UK all BOMAG pavers are available, with a 2 year parts and service warranty, exclusively from AP Pavers Sales who provide nationwide coverage.
For more information:
ENDS
Issued by Dark Arts Marketing on behalf of BOMAG (Great Britain) Limited.
Image(s) Copyright 2010 BOMAG (Great Britain) Limited. Permission for reproduction, in print and on the internet, in conjunction with this release is granted.
For further information contact:
John Bradley [email protected] 01332 856 323 or 07872 600 868
Or
Faye Coton [email protected] 01332 856 999 or 07855 053 081
Subjects
---
Construction