Press release
February 4, 2009
Construction
New 17 tonne machine arrives in the UK.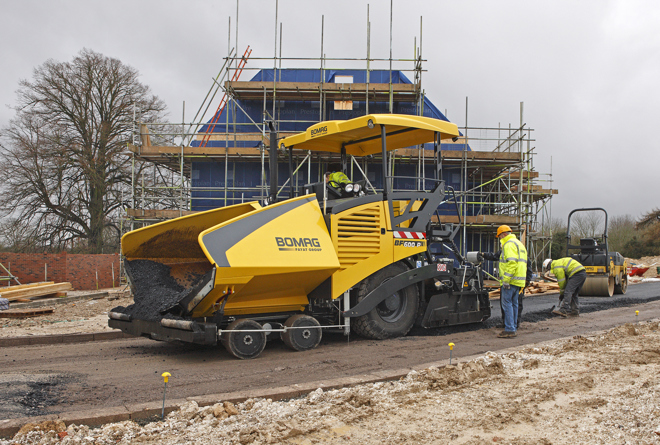 BOMAG, the market leading manufacturer of compaction equipment, has just announced the new BF 600P, a 17 tonne asphalt paving machine ideal for jobs up to 6.85 metres wide with a maximum production rate of 600 tonnes per hour. The launch coincides with the introduction of a new 2 year warranty for BOMAG pavers bought in the UK.
BOMAG entered the paving and cold planning market with the integration of Marini, the Italian manufacturer, in 2005. Subsequently Marini's range of asphalt paving and cold planning machines were brought under the BOMAG brand.
BOMAG has invested heavily in the Alfonsine factory bringing research, development and manufacturing facilities up to the demanding standards of the German manufacturer. The completely new BF 600 P was designed and developed by BOMAG Alfonsine where the manufacturing also takes place with German engineers overseeing quality control.
The first machine arrived in the UK in early January 2009 and it went straight to work on customer demonstrations around the UK. The image shows the BOMAG 600 P laying a road base on a new housing estate in Andover, Hants.
The BF 600 P features a 4 cylinder 120 kW Deutz, water cooled, diesel engine meeting tier III requirements and BOMAG designed 'ECO MODE', an 'auto-Idle function'. The driver's seat and platform can be shifted laterally and safety is enhanced with clear all round visibility provided by SideView System®. The machine has auger height adjustment and fully automatic screed heating and functional monitoring. Maintenance is kept to a minimum with a central greasing system and the machine has an integral cleaning system with an 8 metre hose reel, pump and water tank.
BOMAG Finance offer a range of competitive hire purchase and lease packages to suit the needs of a wide range of clients in the asphalt market and a 0% interest, 2 year HP package is currently available until the end of March 2009.
Commenting on the news BOMAG (G.B.) Managing Director Alan Batty had this to say.........."I'm delighted to see the first of a new range of true BOMAG pavers designed from the ground up. With the 600 P we've a machine in a popular part of the market and with our new 2 year warranty package and traditional BOMAG values of quality, performance and reliability we'll be delivering our customers outstanding value for money".
ENDS
Image © 2009 BOMAG GB. Permission for reproduction in the context of this release is granted.
EDITORS NOTES
BOMAG, part of the Fayat Group (French) since 2005, is the world market leader in compaction technology and now supplies milling and paving machines for road maintenance and construction. With five modern manufacturing plants (Boppard-Germany, Alfonsine-Italy, Kewanee, Illinois-USA, Fengxian-China and Warrensburg, Missouri-USA) and 1,650 employees worldwide BOMAG manufacture 17 product groups from small 50 kg single direction plates to large 55 tonne landfill compactors.
BOMAG supports its customers through eight sales and service subsidiaries (GB, Austria, France, Italy, Canada, USA, Japan and China), a sales office in Singapore and a comprehensive 500 plus world-wide dealer network. Our distribution network is supported by a central parts warehouse where over 40,000 lines are stocked and 'on-line' ordering is available 24/7 without exception. A network of Compaction Centres provides local customer support with experienced factory trained engineers and genuine BOMAG parts.
Issued by Dark Arts Marketing on behalf of Bomag (G.B.) Limited.
Contact, John Bradley. [email protected] 01332 856 999 or 07872 600 868
Subjects
---
Construction