Press release
June 18, 2010
Construction
NEW BOMAG BW332 DEEP IMPACT WITH VARIOCONTROL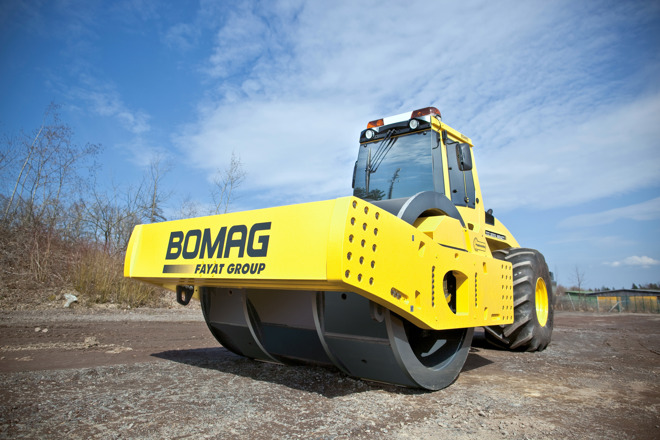 BOMAG, the market leader in compaction technology, launched the heaviest single drum roller in the world at bauma 2010. Shown for the first time as a study model at the bauma 2007 the concept generated so much interest that BOMAG has decided to put the machine into production and it's available now.
The BOMAG BW 332 masters jobs that until now would have been impossible to tackle. The BW332 DEEP IMPACT has a compaction depth of 4 metres and boasts a massive increase in performance, of 50%, over the previous heaviest BOMAG roller, the 26 tonne BW226, and it achieves 35 % more compaction depth with its innovative technology.
However, it's not just the machines 32 tonne operating weight that creates this unique level of performance. The BW 332, developed at BOMAG's compaction research and development centre in Boppard, displays a depth of technology that culminates in formidable performance. A conventional smooth drum would be overpowered by the machines immense compaction forces and so the BOMAG engineers have equipped the BW332 with a 2.4 metre wide patented polygonal drum. The drum's ingenious shape, which features plates and edges, directs the compaction forces vertically down into the ground with no loss of vibration energy. The drum, which is self cleaning, has a low rolling resistance and offers optimum traction. This machine offers awesome compaction performance with 95 kg/cm of static linear load, up to 3.3 mm of vibration amplitude, and 750 kN of centrifugal force in the drum.
Power is nothing without control and so this monster is equipped with the innovative BOMAG VARIOCONTROL vibration system. This exclusive system automatically and progressively adjusts vibration to soil stiffness. This creates optimum, uniform compaction, without destroying soil structure. The vibration amplitude can be progressively adjusted, by VARIOCONTROL, from minimum to maximum seamlessly to give minimal surface compaction up to the maximum 4 metres depth effect. The BW 332 not only offers maximum performance but also flexibility in a variety of tough application. VARIOCONTROL's functionality is enhanced with the BOMAG BTM module which provides an integral measuring system and printer to give the operator a visual, and permanent, record of compaction progress.
The new BOMAG BW 332 opens new opportunities for deep compaction performance, the highest productivity, and for the lowest cost per metre cubed of material compacted. For deep compaction on earthworks in major road construction, dam and power station construction, and on-shore wind farms the BW 332 has no competition. The BOMAG BW332 single drum roller is much more than a bigger version of an earlier model' it's simply in a class of its own representing the culmination of BOMAG compaction technology.
For more information go to www.bomag.co.uk
ENDS
Issued by Dark Arts Marketing on behalf of BOMAG (Great Britain) Limited.
Image(s) Copyright 2010 BOMAG (Great Britain) Limited. Permission for reproduction, in print and on the internet, in conjunction with this release is granted.
For further information contact:
John Bradley [email protected] 01332 856 323 or 07872 600 868
Or
Faye Coton [email protected] 01332 856 999 or 07855 053 081
Subjects
---
Construction