Press release
November 4, 2008
Business
HIFLEX STAFF WELCOMED INTO THE BMI FAMILY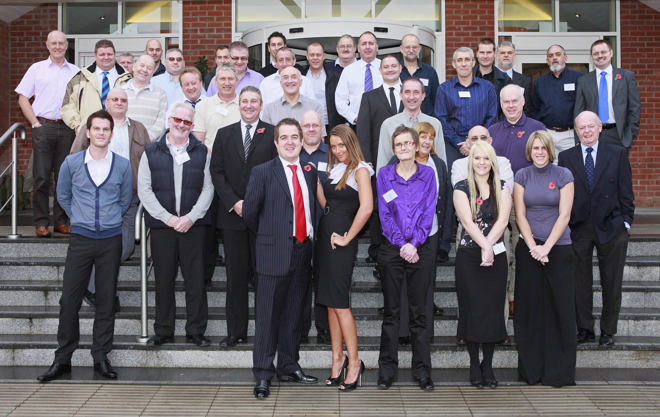 BMI Hose, the new owner of Hiflex Fluidpower, held its first national conference on November 1st to welcome Hiflex managers into the BMI fold.
BMI Hose was launched by Simon Moxham, (age 34), the former European Commercial Director of Pirtek (UK) Limited, in August 2007 to rival market leader Pirtek in the £85 million p.a. emergency on-site hose replacement market. BMI Hose now has 18 hose centres around the UK providing an emergency on-site 24/7 hose replacement service and a 6 days per week trade counter. The recent acquisition has catapulted BMI into second position in the overall hose market, based on the number of service outlets, behind Pirtek.
The 50 delegates to the conference, held in Telford, heard from Chief Executive Moxham and Sales Director Russell Mundell about their medium term plans to develop the BMI network. BMI has exclusive rights to Bridgestone hydraulic hose and delegates heard from product specialists about the many benefits of the hose used with Intertraco one piece fittings.
BMI Hose has 4 franchised outlets, in Dudley, Newcastle, Reading and Bristol, and plans to expand its network in 2009 using the franchise model which has seen the Pirtek network grow to 90 centres.
Moxham commented "We had planned a conference for our franchises but clearly with the acquisition there was more to talk about and it was a great opportunity to get our team together. We have over 1,000 years of experience on our team now and we're determined to put it to good use to deliver exceptional customer service and value for money".
ENDS
Image 2008 © BMI Hose Limited. BMI Hose Delegates outside conference hotel.
Issued by Dark Arts Marketing Limited on behalf of BMI Hose (U.K.) Limited.
Tel 01332 856 999.
Contact, John Bradley [email protected] 07872 600 868 or
Faye Coton [email protected] 07872 600 865.
For more information go to www.bmiuk.co.uk
Subjects
---
Business