Press release
November 25, 2008
Business
Dudley team celebrate with style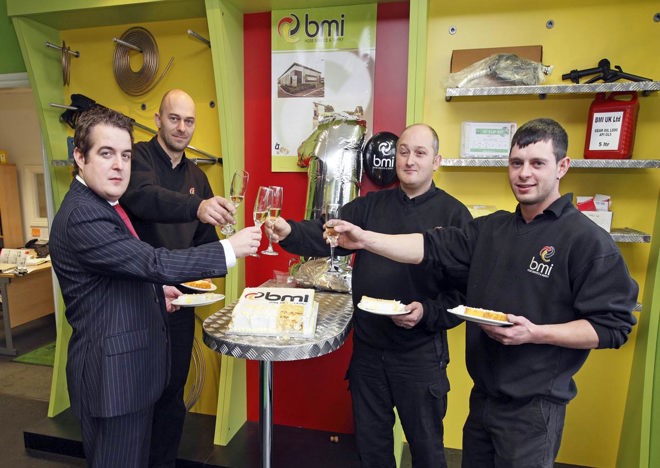 BMI Hose Dudley, the first BMI Hose Centre in the world, has just celebrated its first birthday. BMI Founder and Chief Executive, Simon Moxham, joined the team who marked the occasion with a birthday cake and a glass of champagne on November 20th a year after the depot opened.
BMI Hose is a relatively new business that has achieved an awful lot in its first year. Based to the North of Wolverhampton, adjacent to the M54 and M6 motorways, BMI Hose is already number two in its target market; the £650 million p.a. market for industrial and hydraulic hoses and related components.
Conceived as a franchise business, BMI Hose quickly got its first four branches open, in Dudley, Newcastle-upon-Tyne, Reading and Bristol. And when a competitor, Hiflex Fluidpower, got into financial difficulties in September 2008 Simon Moxham and his team stepped in and bought the distribution assets of the Hiflex business and added 13 branches to the BMI network in a single stroke of the pen. BMI is now working round the clock to consolidate the Hiflex depots into the BMI network. Hiflex customers have remained loyal and all branches report good levels of activity despite the so called 'down turn'.
BMI sell hoses and related components, including oils and greases, from their 17 hose centres, which are open 6 days a week and operate a 24 hours a day, 7 days a week emergency on-site hose replacement service. Customers only need make a single call to the national emergency number (08452 10 9 8 7 6) to call on this service, which is manned by BMI's own staff, round the clock. Customers of BMI include the plant and tool hire industry, civil engineers, utility contractors, the transport and logistics sector, utilities, local authorities, industrial service businesses, the process industry and all types of manufacturing from food and drink to heavy engineering.
With more branches opening soon it won't be long before BMI are baking more birthday cakes!
ENDS
Issued by Dark Arts Marketing Limited on behalf of BMI Hose (U.K.) Limited.
Tel 01332 856 999.
Contact, John Bradley [email protected] 07872 600 868 or
Faye Coton [email protected] 07872 600 865
Image © 2008 BMI Hose (U.K.) Limited. Permission for reproduction in conjunction with this release only, is granted.
Subjects
---
Business