Press release
July 21, 2010
Motor & Transport
A PIONEERING bike sharing scheme believed to be the first of its kind in the world has been launched to rival Boris Johnson's £140million cycle hire plan for London.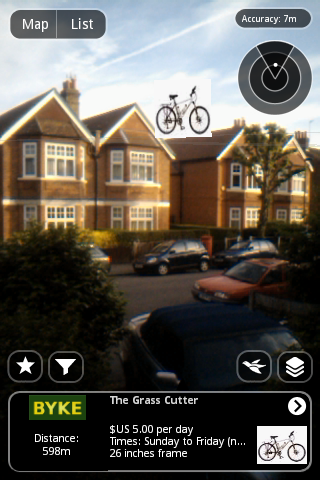 Byke is an internet-based venture centred on the thousands of bicycle owners in the capital renting out their two-wheelers for the day for a fixed fee.

The eco-friendly business is the brainchild of businessman Peter Abrahamson, 34, who believes Byke is a cheaper alternative to the Transport for London (TFL) cycle hire plan which launches on July 30.

Peter said: "This is the world's first peer-to-peer bike sharing scheme. The idea is to take the thousands of often unused bikes sitting in people's backyards, put them up for rent and allow travellers and commuters nearby to make good use of them.

"The service was built in a week without capital investment, unlike Boris Johnson's scheme that is costing taxpayers £140million and is being introduced across London.

"By involving the whole community in renting out their bikes, we are short-circuiting the need for a large taxpayer investment."
Internet users and owners of mobiles such as the iPhone, Blackberry and Android phones can log on to Byke's beta site at http://byke.mobi. The business is similar to the first UK peer-to-peer car sharing scheme www.whipcar.co.uk, which launched in the UK earlier this year.
The Byke scheme costs £3.50 per day for renters. They also have to pay a deposit to the bike owner, which is refundable when they return the cycle. The deposit amount is at the discretion of the bike owner and could be anything from £20 to £100.
The flat fee compares favourably with the London Mayor's cycle hire scheme, which will cost £1 for 30 minutes, £2 for an hour, £5 for 90 minutes, £7 for two hours and £50 for 24 hours. These figures include the £1 access fee for the right to use the service.

Peter added: "We also want to introduce bike owners to the concept of earning an income from their bikes. It is not only an environmentally responsible step to take, it also makes commercial sense."

He believes Byke could prove a brilliant alternative to car and taxi travel and will be popular around train and bus stations for people coming from outside London.

Peter developed Byke using his own location-search software NakdReality.com, which is designed to help internet developers build location-specific applications.

The NakdReality software does the geographical search and helps http://byke.mobi users locate the nearest available cycles in their area.

Editor's Note: For photo opportunities or more information contact Peter Abrahamson on 0753 9069877.
A Byke promotion is currently running: the first 25 cyclists to add their bike for rental receive a free high-visibility vest.
Contacts
---
Subjects
---
Motor & Transport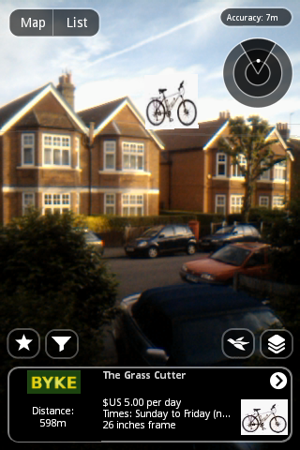 Byke's 'augmented reality' view on an Android phone, showing a bike available for rental in London hovering above the house. The phone can be held up and turned around to show the local bike rental locations.
Download | 0.2 MB | 480 x 320 | .png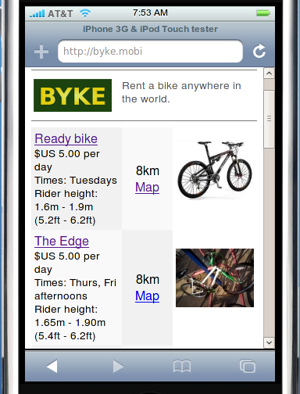 Byke, running on an iPhone showing the nearest bikes available for rental.
Download | 0.1 MB | 504 x 384 | .png
Zip and download all files