Press release
January 7, 2011
Homes & Gardens
When you are installing central heating to heat your home or your office, you now have a wide choice of radiators.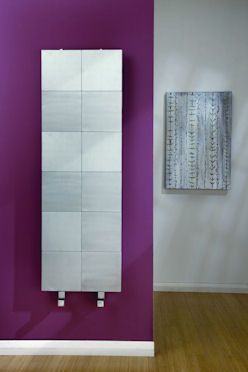 When you are installing central heating to heat your home or your office, you now have a wide choice of radiators. Gone are the days of plain white radiators, in a standard design, with limited sizes; you can now choose from a range of designer radiators, from towel rails to the mirror radiator which will make your home look chic as well as keep it warm.

Consider the rooms in your home before selecting your designer radiators, to ensure that they will blend in with existing décor and style. You want a radiator which will complement existing furniture, and reflect the style you have chosen. Matching it to your other furniture won't be a problem as designer radiators are available in a variety of colours and sizes, making sure that you will find one to suit your requirements.

If you are installing a new central heating system, you will also need to consider the position of the radiators as you want them to be efficient and economical, as well as attractive. Experts recommend that radiators are placed in the coldest part of a room, usually under a window. Replacing an existing central heating system will necessitate making the most of existing pipe work when placing the new radiators.

Designer radiators are available in different materials, the most popular being aluminium and stainless steel. Aluminium heats up quickly which ensures the desired temperature is achieved swiftly, but it also cools down just as fast, which means that your rooms will soon cool down. Stainless steel holds its heat a little better, which is an advantage. Both materials are easy to clean and maintain.

When you are browsing the designer radiators which are available, you will have to also consider space available and contours of the rooms. If you have a small room you may want a small radiator that fits on the wall. For a room which is contemporary, you may want to consider an alternative shape for your radiator. You can buy all manner of styles and shapes for your home.

Towel Rails are particularly useful in a home, especially when you have a large family who leave wet towels lying around. A Towel Rail can be any size and designed to fit almost any space. Here at Cosy Rooms, we have many styles of Designer Radiators which will not only compliment your home, but keep it warm and are cost efficient.

Many people are happy with traditional radiators, but you can select them in a material and colour that suits you. Designer Radiators are versatile and will fit in with your existing décor, giving the traditional appearance you yearn for, but in a modern and hard wearing material.

If you are installing your designer radiators yourself, you may require a selection of tools which the supplier may also stock. Designer Radiators for your home will achieve maximum effect if chosen carefully visit the online showroom at http://www.cosyroomsltd.co.uk where you will be spoiled for choice and will also get the best advice from the professional customer care team.
Subjects
---
Homes & Gardens