Press release
June 3, 2008
Family
Without protection a baby's cot mattress can very quickly become home to assorted bacteria and dust mites.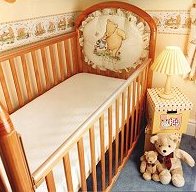 Prenton, Wirral, UK: It is simple common sense, a baby spends a great deal of time sleeping or playing in their cot, and babies nappies can very easily leak, baby can be sick, baby can dribble and even perspire. How can mum stop any of this from reaching the mattress? And If they do reach the mattress can it be cleaned safely and easily? If the mattress itself was waterproof mum certainly would not want to use any chemical cleaners on it and with just hot soapy water how would she be sure that the mattress was really clean and germ free? How long would it take to dry out?, and would it smell afterwards, is it really clean and germ free?
These issues can be easily resolved with the new SnugNights Junior Cot Mattress Protector, it is used under the bottom sheet of mums choice and when it becomes wet or dirty it can be removed and put it in the washing machine at temperatures up to 90c then tumble or line dried and put it back in place.
The upper surface is a soft absorbent cotton terry, the underside is a soft polyurethane membrane that is noiseless and unlike pvc or plastic will not make baby hot or uncomfortable.
A further benefit is that it is dust mite proof. Mattresses can very quickly become infested with dust mites, even in the cleanest of homes. Dust mites feed on skin particles that have been broken down by bacteria. This bacteria requires moisture to survive. The construction of the SnugNights Junior Cot Mattress Protector means that moisture cannot soak in to the mattress and that there is a physical barrier between any dust mites and their waste products stopping them from reaching a sleeping baby.
Babies tend to sleep with their nose and mouth close to the mattress surface and dust mites are known to be responsible for the onset of asthma and allergies in some young children, so this is another great reason to use a SnugNights Junior Cot Mattress Protector.
The UK has an estimated three and a half million children under the age of four, they all have to sleep somewhere and that somewhere needs protection to minimize any risk of exposure to dust mites and bacteria.
Subjects
---
Family