Press release
October 18, 2017
Organ donation
Transplant
Art
Social
Performance
Donation
Organ
In total over 700 people participated in performances taking place in railway and bus stations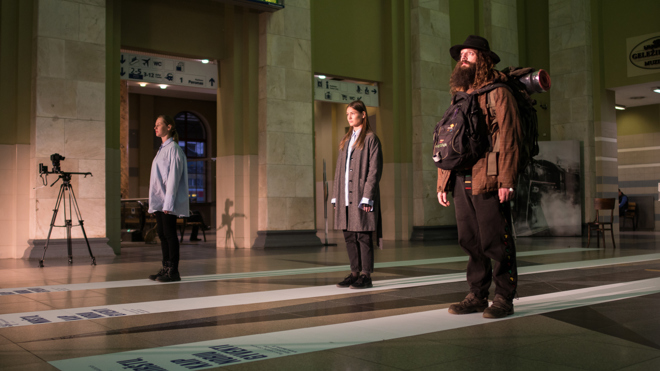 October is the international month for organ donation and in Lithuania yesterday artists stood for 24 hours in the public art performance. The artists and more than 700 people 'donated' their time to stand in the performace. It took place in Vilnius railway station and Kaunas bus station, Lithuania, locations where people are usually waiting, and the combined number of 1.217 hours were stood out.
The performance entitled "Dying for life" (a play of words for the expression of wanting something very much, as in 'dying for a drink') intended to highlight the painful wait of patients awaiting transplants and invited the general public to participate by standing still for at least half an hour.
"My legs were collapsing, my soles were burning and my shoulders ached. I realised that separate body parts stopped obeying me, but the mind was ready to endure the long wait," – Greta Bernotaite, an artist, said after managing to stand in one spot for 24 hours.
Greta was one of the four artists who endured the whole length of the performance. Passers by and daily commuters joined them on their way to work or the night out and stood for at least 30 minutes each.
"More than 500 people in Lithuania alone are waiting for a transplant. It's a life threatening, harrowing experience and by this performance we wanted to highlight it and encourage people to agree that their body parts could be donated after their death," – Andrius Palionis of Irenos Matijosaitienes fund, the organiser of the event, said. At the moment, Lithuania is operating a volunteering opt in organ donation system.
"My 24 hour wait is nothing compared to what people waiting for an organ donor feel. I knew that the performance would end, however, they do not have any time orientation," said G. Bernotaite.
Subjects
---
Organ donation
Transplant
Art
Social
Performance
Donation
Organ