Press release
July 27, 2010
Business
TJC Partners With Sheffield Assay Office To Launch Gold Exchange Programme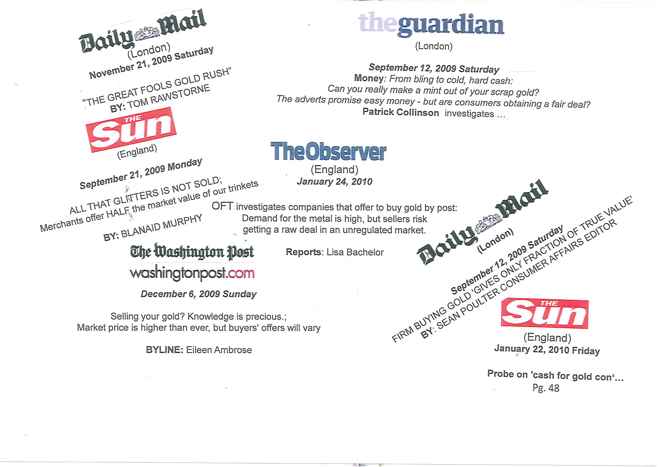 The media has been flooded with numerous scrap gold exchange programmes that make ridiculous claims to offer incredible value for unwanted Jewellery. Unbelievably, some of these exchange programmes promise to even pay more in cash than the current trading market-price for Gold...How is this possible?. People need to be commercially alert of the various gimmicks adopted by these greedy mushroom Gold Exchange programmes.
To establish a true and genuine valuation of all unwanted Jewellery, The Jewellery Channel (TJC) has partnered with a recognized body, The Sheffield Assay Office, to launch the most trusted Gold Exchange programme. Sheffield Assay Office is an independent statutory body that tests the purity of precious metals for the protection of customers to ensure accurate valuations of unwanted Jewellery.
TJC Gold Exchange guarantees to offer one of the highest and true valuations of unwanted Jewellery in the UK. Trust TJC partnered with Sheffield Assay Office for excellent and genuine valuations on your unwanted Gold and Platinum.
How It Works:
Log onto www.tjcgold.com or phone our customer care department on 0800 458 4400to request for a free goldpack. TJC goldpack consists of a poly-bag with instruction label attached, pre-paid next day insured envelope. Information letter and terms and conditions.
Place unwanted Jewellery into the goldpack.
Put completed form together with goldpack into pre-paid insured addressed envelope and take it to the post office.
Sheffield Assay Office will process your Gold/Platinum and send payment by cheque within 24 hours.
What's more?
TJC Gold Exchange has a 100% satisfaction guarantee statement and promise to return all unwanted Jewellery when not satisfied with your valuation. Visit www.tjcgold.com for more information.
The Jewellery channel (TJC) UK is part of a Jewellery corporation that manufactures and handcrafts many of the products sold on its TV networks and website, hence cutting out the "middleman" effect to ensure affordable luxury. Trust TJC for exceptional quality and exquisite jewellery designs at outstanding value. TJC is based in Hampton Hill (Middlesex) studios and has a sister channel in the United States.
"If You Don't Know Your Jewellery, Know Your Jeweller – Trust TJC"
Notes to Editors
TJC (UK) is on air daily 6am – 2 am on Sky 650, Freeview Channel 31 From 6am till 12pm, Virgin Media 153 From 6am Till 12pm, Freeview 84 Midnight till 2am, Freesat 815 6am Till 2am and online at www.tjc.co.uk
TJC (UK) is affiliated to the British Jewellers Association, The Jewellers Board of Trade, International Colored Gemstone Association and Thai Gem & Jewelry Traders Association
TJC (UK) is part of the only 8 site-holders to the "Tanzanite One" mine
Subjects
---
Business