Press release
August 25, 2016
Probana
Mba
Development
Executive
Career
Strategy
Training
Leader
Work
MiniMBA
Learning
Competence
Study
Management
Competent management is imperative to organisational growth and its attraction of new employees. Employees are drawn to leaders that are able to motivate and develop them. The opposite goes for poor leaders. The need for competent leaders is more profound than ever.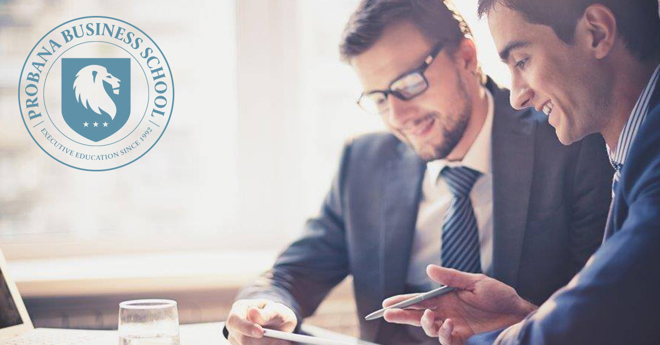 Developing the leaders of the organisation and the organisation itself, demands continuous new inspiration, knowledge and concrete tools. This is what the Probana Mini MBA delivers and this is one of the reasons it has become so sought after by leaders in both the private and the public sector. Read more
Through relevant topics such as strategic development and implementation, customers and quality, performance management, organising, goal setting and data collection, you will acquire insight, knowledge and concrete methods that equip you and your organisation to harvest the full potential of the opportunities that present themselves. You will advance your skills within process optimisation and business strategy to an outstanding degree.
Our Mini MBA beats all participation records in both the public and private sector and the possibilities of networking with fellow executives at our course days are endless. We announce new discounts and campaigns regularly – along with our popular group discount. A widely chosen option is our in-house Mini MBA, where we conduct the entire education at your company for a strongly reduced price when 15-20 employees from your company sign up. Our Mini MBA certificate is recognised by over half a million executives in Europe and complies with the requirements for ECTS, providing 15 ECTS points. Call us to learn more at +45 45 76 58 58 or sign up directly atwww.probana.com
If you wish to sign up for this offer, email [email protected] and get instant access to your e-learning platform.
Our course material is of international MBA level and is easily applicable through the combination of superior professional knowledge and cases from chosen organisations. Further, our Mini MBA provides the opportunity to establish a network of successful executives across industry sectors.
Visit www.probana.uk for additional information
Subjects
---
Probana
Mba
Development
Executive
Career
Strategy
Training
Leader
Work
MiniMBA
Learning
Competence
Study
Management