Press release
December 7, 2012
Family
We have swapped our flip flops and shorts for brollies and gloves and the weather is turning colder, wetter and windier, which can only mean that winter is upon us.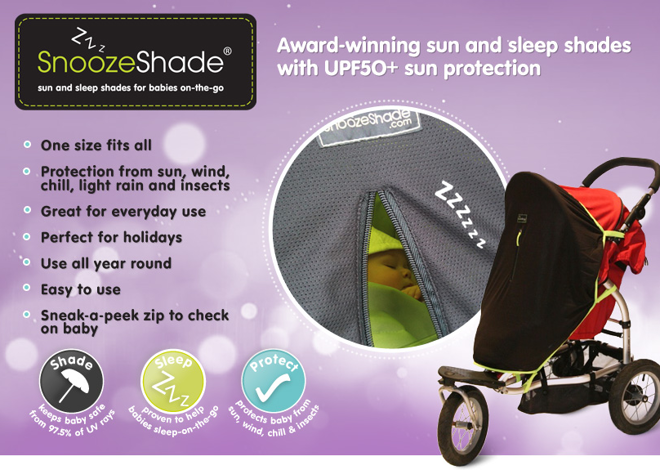 But nothing stops us Brits stepping out, and with the excitement of Christmas looming, families are not letting the weather keep them indoors, especially when there are presents, turkeys and crackers to be bought!
We grown-ups can brave the blustery weather, but with our precious tiny ones in tow, it may be worthwhile following those trusty scouts - and be prepared!
As we constantly ferry children and prams around from bright, bustling shopping centres to noisy supermarkets, while stopping off at granny's house on the way, it's no wonder that nap routines (that we have strived so hard to retain) often fall by the wayside. And we all know that a well-rested baby is a happy baby.
Are you tired of hanging blankets, muslins and jackets over your pushchair? Either they're too thin so let the light in or too thick so our babies can't see out and none are specific for the use, often falling off at the most inconvenient times. Until now!
Wouldn't it be great to have a purpose-designed, universally-fitting shade for our prams and infant carriers, to not only protect our children from the sun and other elements, but also to block out the bright lights and visual stimulations that can often keep our babies awake? Well now you can!
And if you're looking forward to a winter break but not so thrilled about the thought of sharing a room with baby, help is at hand.
It is with great pleasure that Mini Social can introduce and recommend SnoozeShade - multifunctional, breathable sun and sleep shades for prams, pushchairs, car seats and travel cots.
Made from soft stretchy 100% breathable fabric, SnoozeShade is conveniently small, lightweight and portable, so it easily fits into handbags, changing bags, pushchair baskets and more.
These ingenious and versatile shades offer maximum UPF50+ sun protection for baby's delicate skin and eyes whilst blocking out the light that can keep them awake and also protecting them from chill, wind and light drizzles.
Universally-sized and simple to attach, SnoozeShade will fit any make or model of pram or pushchair with versions for group 0/0+ car seats, side-by-side pushchairs and standard size cots/travel cots. The sneak-a-peek zip means you can easily and quietly check on sleeping baby.
You really have to try this product to see how beneficial it can be, and Mini Social has teamed up with the fab people at SnoozeShade to offer a lucky winner one for free. Simply head to Mini's Facebook page to enter.
Subjects
---
Family