Press release
April 4, 2018
Rum
Special forces
Special boat services
NAVY
Military
Royal marine
Leading rum producer A. H. Riise is donating €35.000 to a foundation for the Fromandskorpset, the Danish Frogman Corps – an elite special military force.
For the second year in succession, A.H Riise is delighted to be donating a substantial sum of money to the Danish Frogman Corps. Last year's donation was €24.000.
The increase in the size of the donation is wholly due to the fantastic success of the new Frogman 60 Years' Anniversary Rum, a commemorative rum to mark the 60th anniversary of he Frogman Corps, which was was established on June 17, 1957 and based on the model of the U.K.'s Royal Marines Special Boat Service.
"Sales of the anniversary rum have exceeded all expectations. We are always thrilled when business goes well, but especially so when we know that part of the proceeds from the sale of our rum here at A.H. Riise is going to a very worthy cause. We are just extra happy here at A.H. Riise, "commented Michael Bielefeldt, Director of A.H. Riise.
The money goes to the association Conventus Ranae, the translation from the Latin meaning "An assembly of frogs". The association was founded by a group of Danish frogmen with the aim to support and assist current and former frogmen in times of crisis.
The association also provides support for those ex-servicemen who have been physically injured or who have been mentally adversely affected as a result of combat. The goal is to help former frogmen to make the most of life by providing financial support, especially in the area of retraining or furthering their existing skillsets.
In accepting the donation, an association member who will remain anonymous as they are currently on active service, said: "We are very grateful for the money. This means that we can now help some frogmen in the process of establishing a new life where the public system and we as individuals are not quite sufficient. Sometimes money makes a difference."
Conentus Ranae is also aiming to use part of the money to establish a fund that will, in the long term, become self-supporting through donations from those who have been helped by it.
At A.H. Riise, director Michael Bielefeldt is very pleased to give a financial hand to a group of soldiers who perform acts of exceptional bravery and, through the discrete nature of their work, receive very little public recognition
"These Frogmen give their all for Denmark without public awareness and recognition. That's why it's great to be able to show them our support and thank them for their efforts in such a beneficial way, " Bielefeldt said.
Subjects
---
Rum
Special forces
Special boat services
NAVY
Military
Royal marine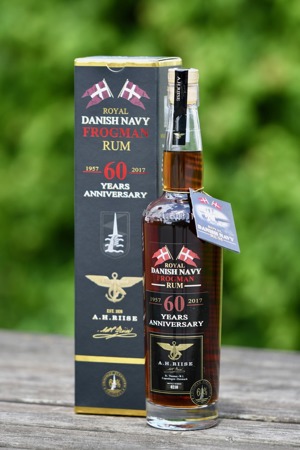 Her er den flaske, som kronprinsen fik overrakt. Læg mærke til nummeret på flasken: 210 – det samme som kronprins Frederiks korpsnummer i
Download | 3.69 MB | 5568 x 3712 | .jpg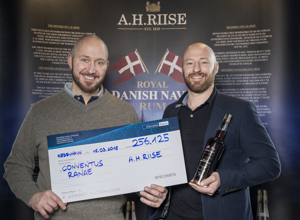 Download | 10.66 MB | 3932 x 5374 | .jpg
Zip and download all files