Press release
June 29, 2010
Lifestyle
1st Galaxy Fireworks is fully embracing the summer festival season, undertaking more than 200 organised fireworks displays including the British Fireworks Championships.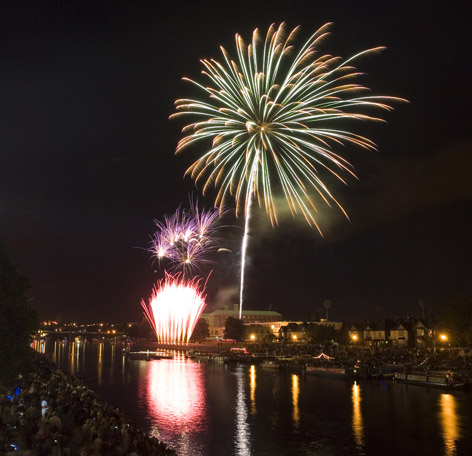 With the festival season peaking in the summer, 1st Galaxy Fireworks are ensuring they make a real 'bang' across not only the UK, but internationally too, undertaking more than 200 organised fireworks and laser shows in the next few months.
1st Galaxy Fireworks, one of the UK's leading fireworks companies, will be taking centre stage at the British Fireworks Championship on 14th August in Plymouth. The display has been designed to have an incredible £25,000 of fireworks, half a tonne of gunpowder, 16 crew and approximately 200,000 spectators enjoying the display across the two days.
The pyrotechnic team will then be jetting off to the Bay of Cannes to sit alongside the judges for the prestigious Cannes International Fireworks Competition, which starts Wednesday 14th July. Another fireworks display (http://www.galaxy-fireworks.co.uk/event3.asp?eventType=displays ) includes The Riverside Festival in Nottingham, which sees over 10,000 festival goers over one weekend. Here, the 1st Galaxy team will be displaying thousands and thousands of styles and effects, fired by two of the most powerful computerised firing systems available in the world.
Additionally 1st Galaxy Fireworks displays can be seen at RAF Cranwell, in Lincolnshire, the oldest air force college in the world as well as Mansfield Party in the Park in August, Windermere Festival and Newark Brass Explosion.
Lee Smith, Display Manager at 1st Galaxy says; "Despite the lighter evenings, fireworks are always popular at summer events. We thrive on the fact that audiences enjoy our displays so much and we always strive to bring a little 'magic' to the longer summer evenings. We love being involved with so many different events – from Cannes to Windermere! The fact we have been booked for 200 events this year alone is testament to the hard work of the pyrotechnics team who always strive to provide the audience with the most stunning and memorable display they can. We are really excited to be involved in so many different events not just nationally, but internationally too."
About us:
1st Galaxy Fireworks is one of the UK's leading fireworks specialists, with expertise in providing displays for all sorts of events, including wedding fireworks (http://www.galaxy-fireworks.co.uk/event1.asp?eventType=weddings ), corporate events, parties and celebrations. It also supplies high quality display fireworks through its retail shops and mail order. It is also possible to buy fireworks online (http://www.galaxy-fireworks.co.uk/shop.asp) ensuring the very best firework collection is available for private celebrations nationwide.
For more information please contact [email protected] or call 0845 3889584.
Contacts
---
Subjects
---
Lifestyle