Image
EOE SL11k, At a photo session, Emmanuelle Martini applies his finishing touches to the work he spent the last year creating. Photo: PR.
Download
File type: .jpg
Size: 0.24 MB
Dimension: 1004 x 1280
Press release
January 10, 2017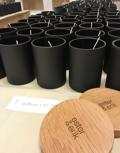 In close cooperation with a recognized French fragrance expert, manufacturer of hand-dipped candles steeped in tradition now launches an exclusive line for the UK market.