Press release
December 17, 2013
Business
Lifestyle
Women
Newbusiness
Youngentrepreneur
Femaleentrepreneur
Femaledrivers
Entrepreneur
Motoringwebsite
Charlotte Leuw has big plans to shake up the male dominated motoring industry in 2014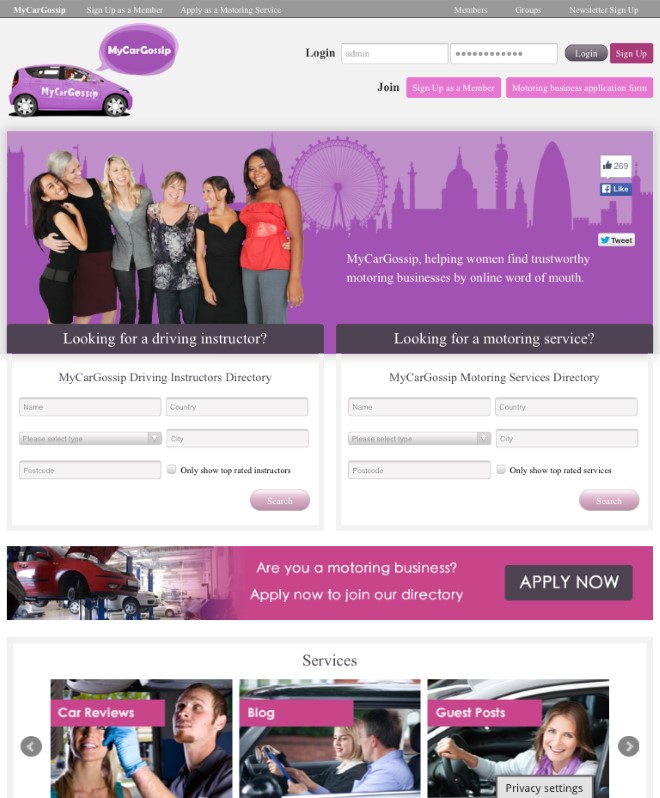 MyCarGossip was founded by Charlotte Leuw 23 years old who felt ripped off whilst getting her car fixed because of her lack of car knowledge. She created www.mycargossip.com a free website for female motorists because she wanted to help women become more knowledgeable and powerful when it comes to their cars. The aim of the website is to make sure that women have enough confidence to know that they are paying the correct prices.
The idea was created when she realised that there is no website in the UK that provides a place for women to discuss their motoring experiences; to ask car related questions and become more knowledgeable about cars in a female friendly way. The site is completely women focussed, providing articles from motoring experts who can offer useful motoring information to women; also including a blog which delivers advice to women about cars and how to stay safe whilst driving.
MyCarGossip helps women find reliable and trustworthy motoring businesses in their local areas by online word of mouth. We ask our members to recommend all types of motoring businesses and then we add the business to our directory with the member's review attached. If the motoring business would like to enhance their profile and make it more informative they can upgrade their profile. An upgraded profile features photos of the business, all of their contact details and after 3 positive reviews they get a MyCarGossip stamp of approval. We are already working closely with branches of MINI/BMW, Volkswagen, Toyota, Suzuki, MG, Vauxhall and Ford.
Charlotte Leuw, founder of MyCarGossip explains that: "Our company motto is knowledge is power, if we can encourage women all over the world to rate their local garages/dealerships/driving schools and insurance companies as to how reliable and trustworthy they are, hopefully in time women everywhere will be able to sort out their car related problems by themselves with confidence."
MyCarGossip has no age limit, it is for every woman who drives a car and wants to find a garage, dealership, insurance company or any other type of motoring business that they can trust.
Having a car and maintaining it is a huge investment, so we want to make sure that you are going to places that aren't going to be overcharging you because you are not a car expert.
Contact details:
Charlotte Leuw (Founder of MyCarGossip)
07703987755
Twitter: @mycargossip
Subjects
---
Business
Lifestyle
Women
Newbusiness
Youngentrepreneur
Femaleentrepreneur
Femaledrivers
Entrepreneur
Motoringwebsite