Press release
August 4, 2022
Herning2022
NC Horse Trainer Wellness Area
During the ECCO FEI World Championship in Herning 6 – 14 August, 1,200 horses will be staying at the show grounds. A big wellness area with among other things spa, water treadmills, vibration-floor and room for hand-walking and grazing the horses have been created.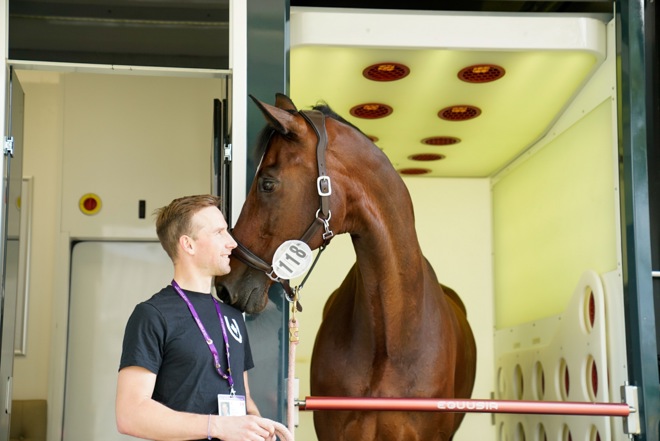 The riders will have the opportunity to work out in their very own fitness centre fitted out by Fitness Egros A/S on the show grounds. But for the four-legged athletes, a special wellness area has been set up.
The comfort and well-being of the horses is a special focus area during the ECCO FEI World Championships in Herning, Denmark. As part of this focus a big wellness area for horses have been set up on the show grounds. Here, it will also be possible for the horses to graze or maybe have a good roll – of course in hand accompanied by rider or groom.
600 sqm of wellness
The big wellness area spreads over 600 sqm and is situated close to the stables and training arenas.
4 experienced aqua trainers will be ready to help riders and grooms to achieve the optimal treatment for the horses.
The wellness area is named "NC Horse Trainer Wellness Area" and is established with equipment for training and rehabilitation. Amongst the equipment is the newest version of the Horse-Trainer Water in which the horses can train in cooled-down water with air pressure. Additional is 2 Horse-Trainer Spas with cooled-down water with Epsom-salt and air pressure and 2 Horse-Trainer Relax vibration-floors to help the horses rehabilitate by speeding up the release of lactic acids.
It is Nicole Christiansen from NC Horse Wellness and Norman Nielsen from Horse-Trainer who has partnered up to offer this special service during Herning2022.
During the championships, the NC Horse Trainer Wellness Area is also offering a modern, high-tec bio energetic scan using photo biomodulation and infrared light. This solution is called EQUUSIR BEST-BOX and Nicole Christiansen is the only to use this in Denmark.
"The machine measures and analyses cell communication in the horse's body and locates any blockage. Then we treat using light therapy. Next, we do a follow-up scan to see how the horse has reacted to the treatment and to track the improvement in the cell-communication which will start a self-healing after the therapy", Nicole explains and continues:
"We are open from 8-20 every day and the horse's treatment can be booked via a booking system. We also have an emergency phone on case a horse is injured and needs to use the spa outside opening hours. Our 4 aqua trainers will be there during the entire championship, and we will help as many horses as possible, booth advising grooms and riders and treating the horses".
Subjects
---
Herning2022
NC Horse Trainer Wellness Area
Ryan Torkkeli from Canada with the horse Sternenwanderer in "NC Horse Trainer Wellness Area". Photo: Herning2022
Download | 0.4 MB | 1369 x 2048 | .jpg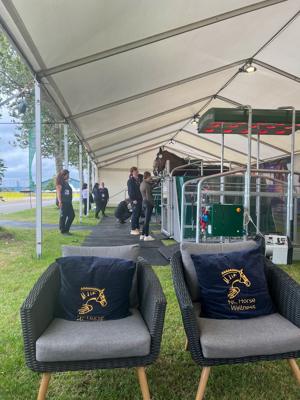 NC Horse Trainer Wellness Area. Photo: Herning2022/Kim Lundin
Download | 0.5 MB | 2048 x 1536 | .jpg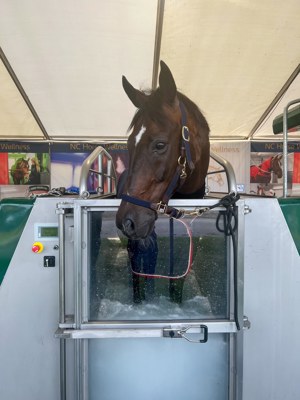 Horse in a spa at NC Horse Trainer Wellness Area. Photo: Herning2022
Download | 0.45 MB | 2048 x 1536 | .jpg
Zip and download all files