Press release
August 8, 2022
Herning2022
Jumping
123 horses participated in the Horse Inspection for jumping today at ECCO FEI World Championships. 118 was accepted, while the last 5 will be seen at the re-inspection tomorrow morning.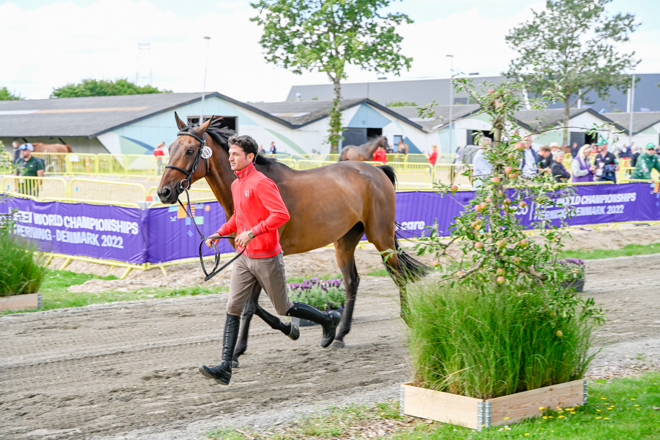 In front of the Veterinary Commission, headed by Dr. Nicolai Jarløv from Denmark and his colleagues, and the Ground Jury, all the jumping horses were shown at Horse Inspection today. The biggest part of the horses were trotting fine and there were only a few of them there were uncertainties about. 7 horses ended up in the holding box, but 2 of them were accepted after second time trotting. The last 5 goes to re-inspection.
When the re-inspection is done tomorrow morning, we will know exactly which riders are ready for the familiarisation, that also will be tomorrow, starting at 10.00. The first competition is Wednesday at 11.00.
5 nations will have competitors who needs to attend the re-inspection, while the rest, including the home nation, have all their riders ready for the familiarisation.
Almost all the horses were shown by their riders, but a few has shown by their grooms because of different circumstances. The jumping horses behaved very well.
The horses not accepted today was Quel Filou from France, Kheros van't Hoogeinde from Columbia, Cheppettano from Poland, Landriano Z from Israel and RMF Zecilie fom the US.
Big jumper-nations like Belgium, Switzerland, Sweden, Great Britain, Germany, and Ireland all went straight through with all their horses.


Schedule for jumping:
Tuesday:
8.00: Re-inspection
10.00: Familiarisation
Wednesday:
11.00: FEI World Team & Individual Jumping Championship – First Competition - Speed
Thursday:
13.00: FEI World Team Jumping Championship – Round 1
Friday:
21.00: FEI World Team Jumping Championship – Round 2 (Final)
Saturday:
17.30: 2nd Horse Inspection
Sunday:
14.00: FEI World Jumping Championship – Final Individual
Subjects
---
Herning2022
Jumping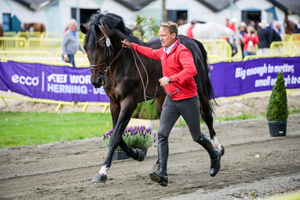 Andreas Schou (DEN) and Dark de Lux. Photo: Herning2022/Kasper Kamuk
Download | 1.89 MB | 1333 x 2000 | .jpg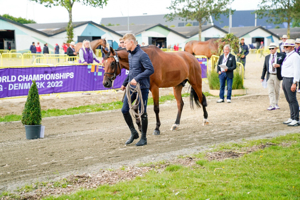 Max Kühner (AUT) and Elektric Blue P. Photo: Herning2022/Kim C. Lundin
Download | 1.27 MB | 854 x 1280 | .jpg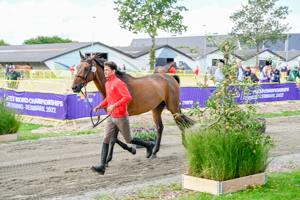 Steve Guerdat and Venard de Cerisy. Photo: Herning2022/Kasper Kamuk
Download | 2 MB | 1333 x 2000 | .jpg
Zip and download all files