Press release
August 10, 2022
Herning2022
Jumping
The Agria FEI World Jumping Championship presented by Helgstrand is on, and the Swedish team is in the lead after today's round, while it is French Julien Epaillard who is placed best on the individual ranking.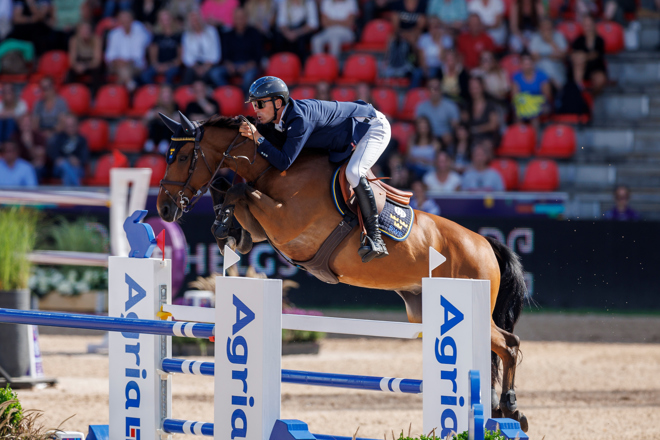 103 riders from 35 different nations and 22 team-nations started in the first competition of the championships, and what a competition. All the riders really did all they could to deliver a great round, and the reigning Olympic champions from Sweden ended doing best. With Henrik von Eckermann and Peder Fredricson delivering perfect clear rounds, and with Jens Fredricsons round added from the first part of the competition the Swedes once again manage to ride into the top of a championship.
"It was a really great start for the team, and we are in the lead position after today, but it is a long week so we will take one day at a time", said Peder Fredricson, who is individual placed preliminary as number 4. The Swedes are for sure a top showjumping nation with a gold medal from Tokyo last year, a silver medal from the last world championships and lots of great results both individual and for teams.
It is also looking really good for the French team who is just behind the Swedes. Even though Kevin Staut was unlucky to fall of his horse during his ride, the team result ended up well. Just behind the French team we find Belgium, a very strong team where all four riders delivered almost perfect rounds today.
"I made my own plan since my horse has small strides, but today she had bigger strides than normal, so we went as fast as possible without going crazy fast", Nicola Philippaerts said after his ride. He is the best placed Belgian rider after today, as number 7.
A Frenchman in the lead individually
It was not only the team results the riders were riding for today, because the competition is also a part of the individual championship. It was French Julien Epaillard who was the fastest today. With his horse Caracole de la Roque by Zandor Z he managed to stop the time at 79.08 seconds, just a bit faster than Scott Brash preliminary placed second and Martin Fuchs preliminary placed third.
"I had a good start and my horses felt super today. We had planned and I followed the plan, and my horse jumps everything with great scope. Sometimes she reacts to the audience, but she was felling super today", Julien said after his ride.
British Scott Brash was also superfast today with his amazing gelding Hello Jefferson, who he finished 7 on at the Olympics last year. They were less than half a second below Epaillard and is therefore bringing only 0.23 faults into tomorrow's competition. Within the fault-difference of one fence, 37 riders are placed, so everything can happen in the individual championship as well.
Home nation rode for a good start
It started out looking good for the home team starting with two clear rounds delivered by Lars Bak Andersen and Emil Hallundbæk. Unfortunately, Linnnea Ericsson-Carey had problems with the open water, and Andreas Schou had unluckily two fences down after such a great try around the course. The home nation is placed as number 16, but everything is open until after tomorrow, where we know for a fact if the home nation will get a spot in the top-10 final Friday. Emil Hallundbæk is best placed home rider with only 3.13 faults from today's competition.
Lovely course
The course designer, Dutch Louis Konickx and his team of assistants, including the Dutch Quintin Maertens, did a great job building todays course. During the course, the riders had to jump three doubles, but no triple, as we often see in the championship courses. It was designed to make the riders ride forward and turn, exactly like a speed competition should work out. A lot of the riders gave their compliments for the building.
"It is a beautiful arena, and it was a great course today. The course designer did such a good job", Brazil's Pedro Veniss told today after finishing of a fast round with one rail down.
Tomorrow the team championships as well as the individual championship continuous. It is tomorrow we will find out which nations there will participate in the team final on Friday, which is open for the top-10 placed nations after tomorrow.
Preliminary result individuals.
Subjects
---
Herning2022
Jumping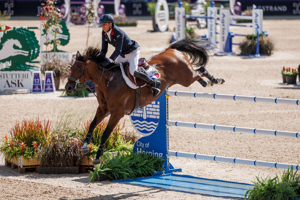 Julien Epaillard with Caracole de la Roque. Photo: Herning2022/Stefan Lafrentz
Download | 1.23 MB | 853 x 1280 | .jpg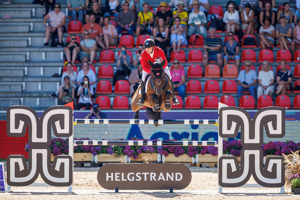 Emil Hallundbæk with Chalisco. Photo: Herning2022/Stefan Lafrentz
Download | 1.21 MB | 853 x 1280 | .jpg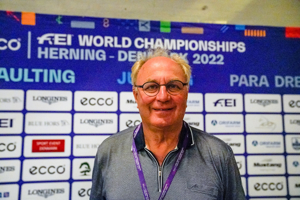 Course designer Louis Konickx. Photo: Herning2022/Kim C. Lundin
Download | 1.04 MB | 854 x 1280 | .jpg
Peder Fredricson with H&M All In was last rider in the competition today. Photo: Herning2022/Stefan Lafrentz
Download | 2.2 MB | 1600 x 2400 | .jpg
Zip and download all files