Press release
December 3, 2021
Herning2022
Global Trucks Roelofsen Horse Trucks
The equestrian sport is global. Horses travel between countries and continents. It's essential that horses reach their destination – both physically and mentally ready to compete at their best. At ECCO FEI World Championships 2022 Herning (DEN), Global Trucks and Roelofsen Horse Trucks have united to show the athletes and horse owners how their horse lorries have the horses and athletes' comfort & safety in focus.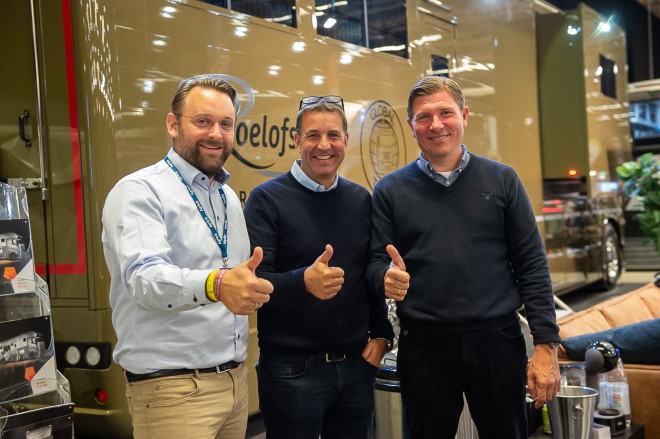 At Herning2022 the guests will get a very special experience, when international top sport forms the foundation for the large experience area called Equipark. The sport is complemented by several exhibitions, clinics, exciting interviews, and fun features from the stage.
The Norwegian based company Global Trucks has united with the Dutch top producer of horse trucks, Roelofsen, to show how safety and comfort for horses, athletes, and grooms are in focus in their popular horse trucks. At different places in EquiPark and inside the stable area you will be able to see different lorry models – from the popular 2horse truck to the biggest horse lorry models with all the comfort you could ever imagine for both horses and people. This is the athletes home away from home and Roelofsen provides the ability to travel in first class.
Furthermore Global Trucks and Roelofsen support the sport as sponsors in the 3-star Grand Prix Sunday afternoon.
We want to be a part of Herning2022
"We have made this deal with Herning2022, and this is our biggest engagement to date, and we will be closely involved. Because we are based in Scandinavia - Herning2022 will be one of the highlights of our career as salesmen", owner of Global Trucks Kristen Klekken states in excitement about getting a Championship this size to Scandinavia. He continues: "We have many clients in Europe and are very popular in both Sweden and Denmark with local departments in these countries, and therefore we want to show our full support to this important event".
The company has made the decision to invest in the future and will soon expand its business location to twice its current size. This way it can also guarantee its quality in the future and meet the growing demand for 2 horse trucks as well as large trucks.
We meet the costumers
"We are already preparing for Herning2022, where we will make multiple customer events" Kristen Klekken states. The horse lorries from Global Trucks/Roelofsen will be placed at the main entrance at Stutteri Ask Stadium, but also in the stable area where the riders will be able to see the comfortable horse lorries and where competent salesmen will be ready to answer questions. 
"I expect we will bring 3 or 4 horse lorries, which are not sold in advance. We are very excited to meet existing and potential customers at Herning2022", Kristen Klekken says.
The Organisers behind Herning2022, Casper Cassøe and Jens Trabjerg, are very excited about the large interest they meet from many different sides of the sport, wanting to be a part of Herning2022. On behalf of the Organisers Casper Cassøe states: "To us it's very important to have a close cooperation with strong brands who are ahead of their industry, and with Global Trucks and Roelofsen it's really a high-end brand, who has set the standard on the horse truck marked for many years. It matters that our sponsors can see themselves in this sponsorship and can use it for their own marketing. Global Trucks has already planned activities for both their existing and new customers, and this will make a positive difference for our many visitors.
About Global Trucks
Global Trucks AS is a Norwegian based company established in 2005. A professional dealer of horse transportation vehicles, and they collaborate with the most recognised manufacturer in the industry, Roelofsen Horse Trucks. The company is extremely focused and determined in giving their customer the best possible service in relation to the process of buying a horse truck. This, in addition to offering trucks of top quality, are seen as key factors for their business continued growth and success.
Roelofsen Horse Trucks
Since its inception in 1987, Roelofsen Horse trucks have had a strong position and reputation in equestrian sports worldwide as a solid player. More than 30 years later, Roelofsen has become one of the leading companies in the construction of horse trucks in the Europe.
Their trucks have optimised the horse area to provide the best safety for the horses. According to the customers' needs and situations, they have built many of their trucks to the customers own wishes.
"No request is to special, specific or personal – tell us your needs and desires and we will find solutions to make it part of the intended use of the truck."
For the editorial staff: the media accreditation for Herning2022 is open. For more information go to: Media Accreditation
Subjects
---
Herning2022
Global Trucks Roelofsen Horse Trucks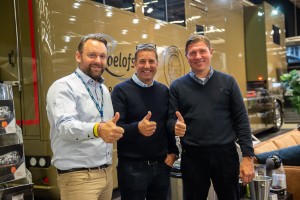 Kristen Klekken, CEO of Global Trucks (right) and Tom Gulaker, partner/Sales Denmark together with organiser Casper Cassøe. Photo: Kunddahl Grapic Photography
Download | 0.65 MB | 755 x 1134 | .JPG
Zip and download all files