Press release
August 7, 2022
Herning2022
Dressage
Dutch team is overnight leader in Blue Hors FEI World Dressage Team Championship Grand Prix at the ECCO FEI World Championships in Herning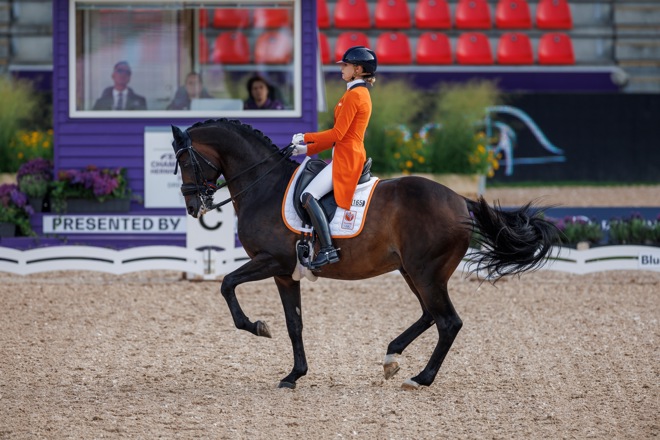 The first day of Grand Prix Dressage and the Team Championship has brought in the crowds to the ECCO FEI World Championship in Herning. To huge applause and enthusiastic cheering, the best team riders did the final passage line up to do a final salute in front of judge at C Mr Christof Umbach (LUX).
First rider of the day to really rock Stutteri Ask Stadium was Danish rider Nanna Merrald Rasmussen on the national treasure Blue Hors Zack, world championship contender with two Danish riders. She showed the famous breeding stallion to a personal best score of 76.724 percent. The audience followed her all the way from the centre line piaffe and through the passage into a halt where Nanna really gave a wide smile; We did well!
German team debutante Ingrid Klimke started with a strong result on Franziskus giving the reigning world champions a good kickstart. Her teammate and fellow first-time championship rider Benjamin Werndl took elegant classic looker Famoso OLD through an arena filled with atmosphere and managed to nail a personal best. All accompanied by applause down the Centre line. In total team Germany is second.
Second team rider from the home nation Denmark was Carina Cassøe Krüth on the beautiful mare Heiline's Danciera did a great job and took home 76.863 to add to the team score. Although it did not make them over night leader it is strong to have a drop score of over 76 percent. 
"It is a combination of several years of training and building up expectations to this event. I feel that a lot of things have come together in the last months", said a very pleased and happy Carina Cassøe Krüth.
The most impressive ride of the day making the Netherlands the over-night leader was last year's fastest rising star on the dressage scene – Dinja van Liere on the beautiful and elegant stallion Hermès. They entered the arena and performed beautifully in the Stutteri Ask Stadium showing off the stallions rhythmic piaffe and beautiful tempis. Together with Dinja van Liere the bay stallion, by the same sire as the Olympic champion TSF Dalera BB, they scored 78,835 percent. 
"Hermes gave me a good feeling even if I was nervous. He is so talented with piaffe and passage although we today had a few things that of course can be improved. I really look forward to showing again on Monday", said a relieved and proud Dinja van Liere.
The competition about the team medals continues on Sunday in theBlue Hors FEI World Dressage Team Championship Grand Prix.
On the start list for Saturday was initially 46 combinations with 19 teams in the line-up. The Australian rider Mary Hanna had to withdraw ahead of the competition. With three riders still on the team Australia is continuing as a team. Two riders were eliminated during or after their ride by the judges or at tack control.
Link to intermediate individual results
Link to intermediate team results

Judges in today's competition, seven judges serve on championships
JUDGES:
K - Anne Gribbons (USA)
E - Susanne Baarup (DEN)
H - Peter Storr (GBR)
C - Christof Umbach (LUX)
M - Elke Ebert (GER)
B - Mariette Sanders - v. Gansewinkel (NED)
F - Raphaël Saleh (FRA)
JUDGES SUPERVISORY PANEL:
David Hunt (GBR)
Mary Seefried (AUS)
Henk van Bergen (NED)
Subjects
---
Herning2022
Dressage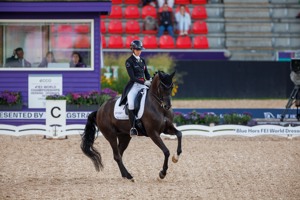 Carina Cassøe Krüth and Heiline's Danciera Photo: Sportfoto Lafrenz.
Download | 4.38 MB | 3200 x 4800 | .jpg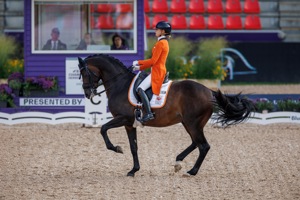 Ninja van Liere and Hermés. Photo: Sportfoto Lafrentz
Download | 4.18 MB | 3200 x 4800 | .jpg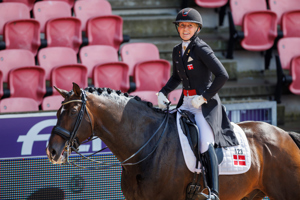 Nanna Merrald Rasmussen and Blue Hors Zack. Photo: Sportfoto Lafrentz
Download | 9.51 MB | 3200 x 4800 | .jpg
Zip and download all files