Press release
August 13, 2022
Herning2022
Para Dressage
Orifarm Healthcare FEI World Para Dressage Team Championship was completed under blazing sun and hot weather in the BB Horse Arena, posing an extra challenge for the para-athletes.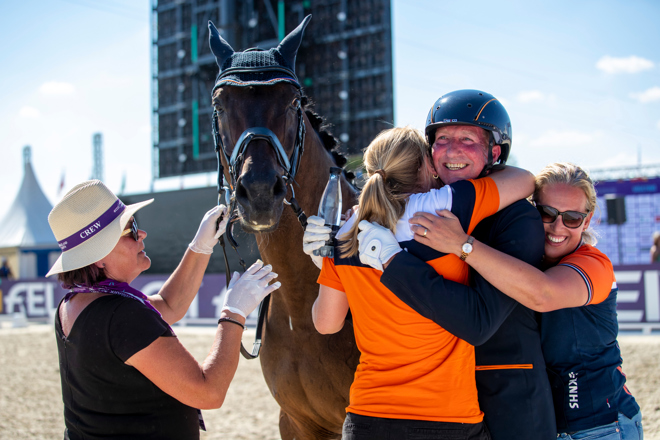 The Dutch team comprising of the four para-athletes Sanne Voets and Demi Harkens in Grade IV, Lotte Krijnsen in grade III and team anchor Frank Hosmar in grade V produced good rides. The team total score was 230.295 % and that was a win by a tiny margin of 0.474 % to the silver-medal winning home nation Denmark. Sanne Voets and Demi Haerkens dominated Grade IV and will be on fire in Sunday's freestyle final.
The Danish para-team with four young athletes rode four good rides with no rider under 73 %, an impressive drop score. The team comprised of Katrine Kristensen grade II, Karla Dyhm-Junge and Tobias Thorning Jørgensen in grade III and Nicole Johnsen in grade V. Both Katrine and Tobias won their respective grades with some margin and are in the running for more medals.
The pressure to perform in a team can be crippling but other may thrive. Dutch team anchor Frank Hosmar is one of them.
"It was fun today, I feel no pressure, I am never nervous when I am on a horse. We thought when we came to Herning that maybe we can get a medal for the team but definitely not gold. Then after a few days here it all felt better and we started to hope, maybe it is possible", said an emotional Frank Hosmar. He was grateful just to have his longtime partner Alphaville back in the game.
The Dutch Chef d'Equipe Joyce van Rooijen-Heuitink was over the moon with happiness over her team's great achievement. 
"I cannot describe the feeling; I am very moved. Beforehand I could only dream of a result like this – a Dutch gold. I had two new riders in the team, you never know how riders takes to championships, but they were so good. It is a change in the sport with the top three teams on the podium without grade I participants that usually score high. The quality is so high that it changes everything. I am so proud of my riders and our team and what they have achieved," said van Rooijen-Heuitink visibly moved short after realizing the gold was in Oranjen hands.
The last team rider for Denmark was V grade rider Nicole Johnsen and she was incredibly happy and proud to be part of the Danish para-team. 
"It feels good to be on the team and I am pleased because I had a better ride today. I was last in the team, but my teammates made it easy for me, scoring really good and giving me a secure start. I could just enjoy my ride and my horse was carrying himself well. It is also slightly unreal to have so many cheering us on and such an amazing event on home soil," said Nicole Johnsen.
The bronze medal went to another young and aspiring team with a great future ahead of them – USA. The American team consisted of athletes from four different grades and Roxanne Trunnel in grade I rides a 6-year-old breeding stallion named Fortunato H2O, indeed a very fortunate and talented addition to the team. Athletes Kate Shoemaker, a veterinarian and experienced competitor teamed together with Rebecca Hart and Beatrice de Lavalette. All the riders scored consistently above 73 %. Chef d'Equipe for the USA Michel Assouline stated already after one day of team grade classes how content he was with the American team results. 
"We have not our top horse with us, but we want to qualify for Paralympics in Paris 2024. I am very pleased that we, with hard work, has come up even more. Several of our riders have new horses and they have done absolutely amazing, delivering more than I expected" he said.
Prize giving for the para teams were held in the Stutteri Ask Stadium in front of huge crowd giving the three para-teams well deserved praise and cheer from the stands.
Para-dressage continues with individual finals conducted as freestyle classes, follow the action at BB Horse Arena.
Get Flash Quotes and lots of info on disciplines, the venue etc.in the ECCO FEI World Championships' Media Guide.
Login: PressHerning2022
Should you wish to visit us, tickets are still available – more info HERE
Subjects
---
Herning2022
Para Dressage
Young Dutch team debutante Demi Haerkens with EHL Daula performed like seasoned professionals in their first work championship. Photo: Herning2022/Hoppofoto.be - Sharon Vandeput
Download | 9.65 MB | 3200 x 4800 | .jpg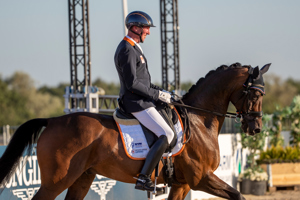 Dutch Team Anchor Frank Hosmar on his beautiful partner Alphaville, almost lost during the winter months due to illness, rode a secure and correct test bringing the gold to the Netherlands team. Photo: Herning2022/Hippofoto.be - Sharon Vandeput
Download | 5.37 MB | 3543 x 5315 | .jpg
Chef d'equipe Joyce van Rooijen-Heuitink for the Netherlands give team anchor Frank Hosmar a big hug as thank you for doing that extra tiny percentage that was needed to win gold. Photo: Herning2022/Hippofoto.be - Sharon Vandeput
Download | 5.92 MB | 3200 x 4800 | .jpg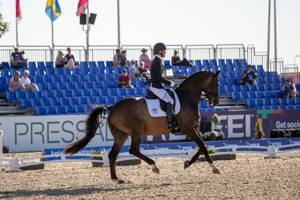 Danish team rider Nicole Johnsen on Moromax, 13-year-old by Occacio, were last to go in the Danish team. Photo: Herning2022/Hippofoto.be - Sharon Vandeput
Download | 8.7 MB | 3200 x 4800 | .jpg
Zip and download all files