Press release
December 21, 2021
Herning2022
Cathrine Dufour
"I dream of riding the World Championships on home ground, and I will do my best to support the major event and the team behind Herning2022," world ranked No. 2 Cathrine Dufour states.
ECCO FEI World Championships 2022 Herning (DEN) will be held from 6 - 14 August 2022. The Organisers Jens Trabjerg, CEO Sport, and Casper Cassøe, CEO Operations, have assembled a strong and committed team to make Herning2022 an unforgettable experience for guests, athletes and everyone involved.
"World Championships on home ground is completely unique, and the Danish athletes will do everything to line up for such an outstanding event, such as the one that awaits us in Herning. I am proud to be Danish, and hope it will be a huge success", says the Danish dressage rider Cathrine Dufour, who is currently ranked second on the FEI World Rankings.
Dressage and Vaulting open the World Championships on 6 August, and the two disciplines run until 10 August – the first day of competition for Jumping and Para Dressage, and the two disciplines will close the Championships on Sunday 14 August.
The Organisers have worked closely with several Danish elite athletes to create the best conditions for athletes and horses during the Championships.
My expectations are sky high
Cathrine Dufour is an ambassador for Herning2022 and her expectations for these Championships are sky high: "I really expect a lot from the event in Herning next year", says Cathrine Dufour. "My expectations are sky high. We know the stables, they are absolutely fantastic, but I also have expectations for everything else surrounding the Championships, I know the whole team makes a huge effort to ensure everybody an extraordinary experience in Herning", she continued.
Cathrine Dufour is in top form ahead of the World Championships. She finished individual fourth at the Olympics in Tokyo - together with the Danish team (Carina Cassøe Krüth and Nanna Skodborg Merrald) they came in at fourth place. At the European Championships in Hagen, Dufour won a bronze medal in the Grand Prix Special and a silver medal in freestyle, while the Danish team won bronze. Both Championships were ridden on Bohemian, an 11 year gelding by Bordeaux registered in Westphalia and owned by the Zinglersen family.
Expectations for the team
Hopes are flying high for a medal to the Danish dressage team at Herning2022, and Cathrine Dufour already has good vibes about the Danish form:
"The Danish team looks really strong right now. We have several athletes who are well established on their own horses, the team can be insanely sensational. However, we have seen before that just a few months before the championships, things can change, but I am very positive."
About her own expectations for the Championship, Cathrine Dufour is more hesitant. She has several horses competing at Grand Prix level, and she naturally hopes to be part of the Danish team at the World Championships.
Big enough to matter, small enough to care
When 200,000 spectators, 1,100 media and approx. 200 million TV viewers turn their attention to Herning, the Organisers aim to create a World Championship giving athletes and horses the best conditions to shine in competition.
"We have an ambition to make Herning2022 a multi-event with the sport as the center of attention. Horse enthusiasts will have the possibility to have an exceptional experience at the fair, EquiPark. And at the same time, we aim to ensure children and adults, without previous knowledge of horses and horseshows, a fun an exciting experience at EquiPark", Jens Trabjerg explains.
"We are well ahead in our planning, and we experience a completely overwhelming interest from many sides, to be part of this World Championships. Together with our main sponsors and close partners: The Municipality of Herning, Sport Event Denmark and the Danish Equestrian Federation, we have set the framework for the entire event", adds Casper Cassøe.
There is a strong interest in buying tickets and access to the Helgstrand VIP lounge, giving the Organisers the opportunity to focus on creating a very special World Championship.
Jens Trabjerg concludes: "We look forward to welcoming everyone to Herning2022, and we will do our best to ensure that everyone has a fantastic experience, and at the same time experience some Danish "hygge" in accordance with our motto: "big enough to matter, small enough to care".
Jens Trabjerg, Casper Cassøe and the entire team behind Herning2022
wishes all a very Merry Christmas and a Happy New Year.
To the editors:
Media accreditation is open. The accreditation form can be found on the website for Herning2022: Media accreditation | Herning 2022
Subjects
---
Herning2022
Cathrine Dufour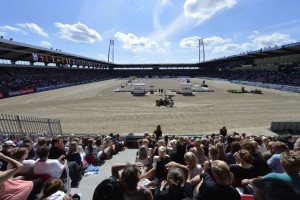 Dressage and Jumping will be held at Stutteri Ask Stadium. The stadium at the dressage competitions at the Europeans in Herning 2013. Photo: Ridehesten.com
Download | 1.89 MB | 3280 x 4928 | .JPG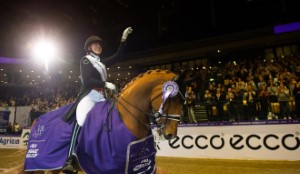 "I dream of riding the World Championships on home ground," world ranked No. 2 Cathrine Dufour states. Photo: Lars Møller
Download | 8.44 MB | 2552 x 4409 | .JPG
Zip and download all files