Press release
August 5, 2022
Dressage
Herning2022
In front of the president of the Veterinary Commission Dr. Nicolai Jarløv (DEN) and his colleagues and the President of the Ground Jury Susanne Baarup (DEN) with her team of judges', athletes and their horses trotted up in good form at the ECCO FEI World Championships. The horses were shining in the morning sun, and all shown were deemed accepted and fit to compete.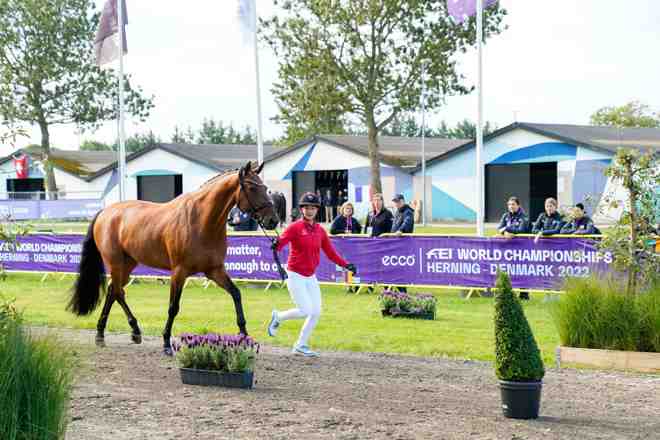 The mandatory Horse Inspection is the go-ahead sign for participation in theECCO FEI World Championships starting up with arena familiarisation at Stutteri Ask Stadium throughout all Friday. The result is used for the draw of the start order taking place at 14.30 Friday afternoon.
The participating horses were shown by their riders with some exceptions, a few stallions had their groom holding the reins and showing wearing a helmet for safety. The horse inspection was mostly a calm and easy affair but as it tends to be at most events, some horses tend to know what is awaiting. All that energy can be a bit tricky to focus on a straight line as some of the riders got to experience.
The home nation Denmark had four very energized horses with the exception for Vamos Amigos shown by Cathrine Laudrup-Dufour. He trotted up, cool as a cucumber with perfect behavior. All Danish horses were accepted.
The reigning champions as gold medalists from the FEI World Championships in Tryon is Team Germany. They started out with Ingrid Klimke and her stallion Franziskus, both on the national team for the first time. Klimke is champion many times over in different championships – as an eventer. The German team has two more debutants in team members Fredric Wandres and Benjamin Werndl. Fourth member is Isabell Werth, the reigning individual champion from Tryon in 2018, now presenting her latest championship horse DSP Quantaz.
A handful of horses had to be presented more than once but after 94 inspected dressage horses, all received the much sought after and appreciated: Accepted.
Note. One of the horses from New Zealand were not shown at this morning's horse inspection. The team still has the possibility to show the horse, if possible due to health status, at a re-inspection Saturday morning.
Subjects
---
Dressage
Herning2022
Danish Cathrine Laudrup-Dufour showing Vamos Amigos. Photo: Herning2022/Kim Lundin
Download | 0.9 MB | 3072 x 4605 | .jpg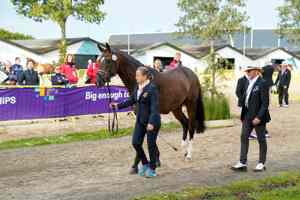 German Isabell Werth and Quantaz. Photo: Herning2022/Kim Lundin
Download | 1.02 MB | 3118 x 4673 | .jpg
Download | 0.96 MB | 3415 x 5118 | .jpg
President of the Veterinary Commission Dr. Nicolai Jarløv (DEN) and the President of the Ground Jury Susanne Baarup (DEN) (right). Photo: Herning2022/Kim Lundin
Download | 1.09 MB | 3448 x 5168 | .jpg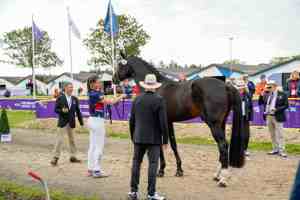 American Adrienne Lyle showing Salvino. Foto: Herning2022/Kim Lundin
Download | 1.01 MB | 3448 x 5168 | .jpg
Zip and download all files