Press release
August 3, 2022
Herning2022
Danish Warmblood
Foalauction
During the ECCO FEI World Championships – Herning 2022, 40 Danish Warmblood foals will be on auction for the DWB Elite Foal Auction on Tuesday, 9 August. This is a unique opportunity, because who knows – there might be a future world champion amongst these wonderful foals.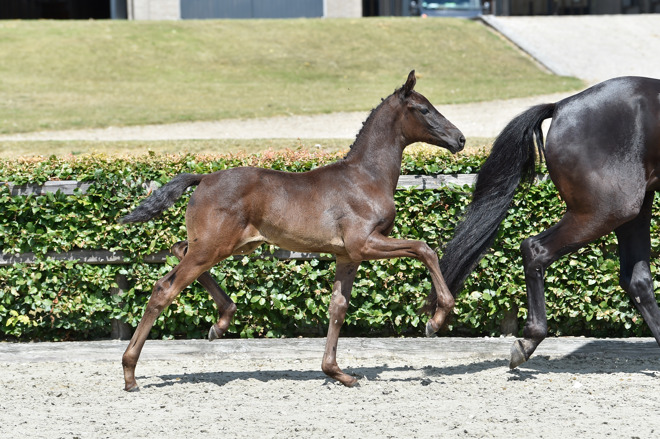 The Breeding Association Danish Warmblood presents a collection of carefully selected dressage and jumper foals on auction during the equestrian world championships in Herning on 9 August. The auction will take place in Jyske Bank Boxen arena from 19.00 CET and the entrance is free.
For many years, Danish Warmblood horses have been strongly represented in international top sport. At the Herning 2022 championships there are several on the starting list, amongst them 8 dressage horses. And now, the DWB breeding association is making it possible to purchase a foal during the World Championships.
Great Collection
This year's collection on the Elite Foal Auction is an exciting mix of performance strong dam lines and new, interesting blood lines. Of the 40 foals, 14 foals are of jumper lines and 26 foals are of dressage lines.
The collection is presented by Dansk Hesteforsikring and can be viewed here:
Elite Foal Auction 2022 Collection
There is a short description, photos, video, and info on pedigree for each foal.
It is possible to bid on the foal online from 6 august at 17.00 CET, but the bidding will not end before the actual auction in Jyske Bank Boxen on 9 August. Here, Auctioneer Casper Cassøe will oversee the final fall of the hammer on these interesting foals.
For this special event, the Gold Bar in the foyer of the Jyske Bank Boxen will be open from 22.00-02.00 CET allowing buyers and sellers to celebrate a good deal.
Should you not be able to be present during the auction, you can experience the auction via Live Stream on ClipMyHorse.
Subjects
---
Herning2022
Danish Warmblood
Foalauction
Danish Warmblood Foal Auction. Photo: Danish Warmblood
Download | 1.63 MB | 1640 x 2464 | .jpg
Zip and download all files