Pressmeddelande
oktober 25, 2010
Electronics
When out and about, listening to your music on your iPod, iPhone, or other MP3 player is a personal experience. In fact, the whole concept, dating back to a portable cassette player, is based on individuality and personality.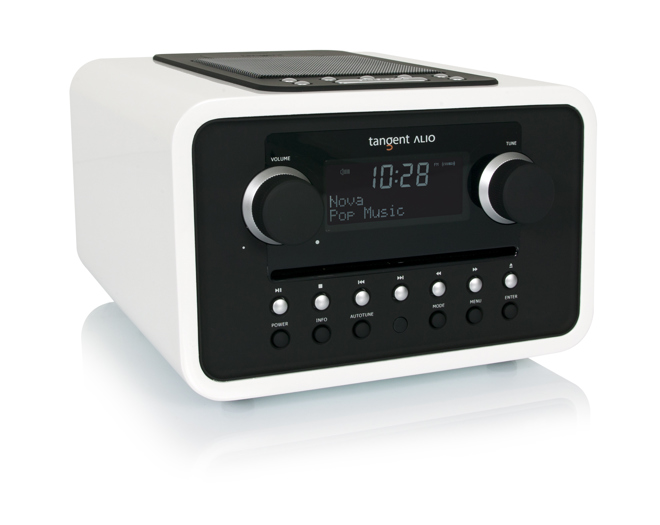 Today, more and more people have uncovered the pleasure in sharing their own personality with others, using their individual music player as a common source. And the new Tangent ALIO music system makes it a lot easier to do so.
This sound centre offers a simple solution to spreading your music. Simply connect your iPod or iPhone via the built-in dock on the top, and you're in business. Certified as a "Made for iPhone" product, the Tangent ALIO seamlessly recognises your Apple product, and begins playback through its powerful built-in speakers.
Evolution of Tangent Cinque
The Tangent ALIO is one concept with several variants. Take a look, and it's easy to see the similarities to the popular Tangent Cinque music solution. The Tangent ALIO represents an evolution of the Cinque, where Tangent has taken lots of the great components found within, adding to and improving them.
Leading the way is the Tangent ALIO stereo solution, featuring five sound sources and two powerful 3" speakers. Choose between an external iPhone or iPod, and connect via the docking station. Or jump over to the newest, high-quality Digital Audio Broadcasting band, DAB+, via the DAB+ receiver. It too, is built-in, along with an FM tuner and CD player. You can also connect a final source through the AUX jack on the rear. But no matter what you prefer, you're able to enjoy it thanks to easy-to-understand operation, and first-class stereo sound.
The single-speaker variant features many of the same sources, and is even available in two different models of radio tuner: your choice of DAB+ or FM. Its smaller dimensions let it be placed flexibly, slipping onto a bookshelf or nightstand with ease. But don't be fooled by its modest dimensions. The ALIO single-speaker provides sound performances that are normally reserved for much larger radios. The single 3.5" speaker unit located at the top of the solid cabinet makes it possible.
Large 2-line LCD display
One of the ALIO's most striking features is the large, 2-line LCD display. Prominently placed at the centre of the front panel, it provides clear, informative visual feedback to the user. The appealing lettering and special icons that are shown supplement the great sounds emerging from the ALIO. And because the display's brightness can be adjusted to fit the ambient light, an uncomfortable glare is easily avoided.
Additional features
If that wasn't enough for you, Tangent ALIO is loaded with additional features. The loudness and equalizer pre-sets can be employed as you wish, adjusting the soundscape to fit your personal preferences.
Also, the dual alarm function allows the user to set a new alarm without deleting another alarm. The perfect solution for anyone who shares his or her bedroom - and Tangent ALIO - with someone who needs a different alarm. What's more, the highly-flexible alarm can be selectively set to sound on weekdays only, just once, on the weekends only, or every day at the same time.
Available now
Tangent ALIO is available now at a dealer near you. It comes in four colours: walnut, high-gloss black, high-gloss white and high-gloss red.
While individual prices can vary, the suggested retail prices are as follows:
ALIO CD/FM: EUR 349.95
ALIO CD/DAB+/FM: EUR 429.95
ALIO Stereo CD/DAB+/FM: EUR 499.95)
Specification
System: Mono or Stereo
System output: 10 watt or 2x10 watt
Speaker: 3,5" or 2x3" full range, bassreflex cabinet
Frequency response: 100 Hz – 20 KHz
Dimensions (HxWxD): ALIO: 135x210x200 mm, ALIO Stereo 135x370x200 mm
Input: AUX 3,5 mm
Features: CD player, FM or DAB+/FM, iPod/iPhone dock,
remote control
About Tangent
Tangent was established by a group of dedicated hi-fi enthusiasts, and within a few years, innovative designs established the company as a major specialist loudspeaker manufacturer. Consistently, its products were highly recommended by respected hi-fi reviewers both from the United Kingdom and beyond. Now based on more than 50 years of experience the product range includes table radios, loudspeakers and electronic components in contemporary design. Tangent has shown that fundamentally correct design can produce a product capable of achieving excellent performance at an affordable price.
More information on the Tangent ALIO and all other Tangent consumer electronic products are available on tangent-audio.com or by contacting Torben Kristensen via e-mail ([email protected]) or on +45 9641 1500.
Ämnen
---
Electronics