Pressemelding
februar 19, 2008
IT
Copenhagen - Denmark, February 19, 2008 - today the innovative software company UPSIDO, launches a pioneering online service to stock investors in Scandinavia.
For the first time, private investors will get access to an online web application, upsido.com, which intelligently links together relevant financial information in a way that enables investors to undertake stock analyses both faster and more efficiently.
UPSIDO has a vision of making the stock market more transparent for private investors by giving them the opportunity to strengthen investments through access to intelligent financial data. With today's launch of the product upsido.com stock investors will have access to a platform, which functions as an intelligent tool for stock analysis. With the latest insecurity about the ongoing credit crises and the panic on the world's stock markets, we believe that the need for an objective information platform, which can provide stock investors with overview and insight, is crucial in order to make informed decisions.
Today, it is easier than ever for private investors to buy foreign stocks. According to the Swedish website E24 a study of investment habits in third quarter of 2007 showed that 27 percent of Nordnet AB's Danish customers invested in foreign stocks. Furthermore, the same study showed that the Swedish customers bought twice as many foreign stocks compared to the same period last year. These figures will undoubtedly rise in the future as commission on trade has fallen in the wake of the consolidation on the Scandinavian stock market and the continuous upcoming of new online trade platforms. With UPSIDO's new online service it will not only be easier and more convenient to get an overview of all companies, but UPSIDO can also provide investors with the tools to gain a better understanding of public companies in Scandinavia.

"UPSIDO's vision is to make the stock market transparent through an alternative stock tool, which distinguishes itself significantly from the other providers of similar tools. These alternative providers often offer only cursory information about stock prices, news, and in some cases old or even wrong financial data. Our solution makes it possible for investors to find new investment opportunities more easily and compare companies to their respective sectors. This has not been possible before UPSIDO, particularly not for private investors" say the three founders Peter Garnry, Christian Hølmer, and Peter Ericson.

"Private investors invest to a great extent on the basis of advice or solely on trends in stock prices. To many people basic research of a company seems advanced and time consuming, but in reality such investigation does not require specialized prerequisites or knowledge and everyone can quickly learn it. However, it requires a solid platform, which is exactly what UPSIDO offers. It is our ambition that UPSIDO, in collaboration with the Scandinavian shareholder associations, can develop the culture of stock investment towards substantiating investments with hard data. It is important to know the company behind one's stock," state the founders of UPSIDO.

UPSIDO's new online tool has attracted great recognition and attention among a large test group of private and professional stock investors. The plan is to expand into Europe and thereafter out to the rest of the world.
The investment tool will cost a monthly fee, but a limited access will be freefor everyone.

For further information about UPSIDO, please visit upsido.com
Emner
---
IT

English press release in word
Laste ned | 0,07 MB | .doc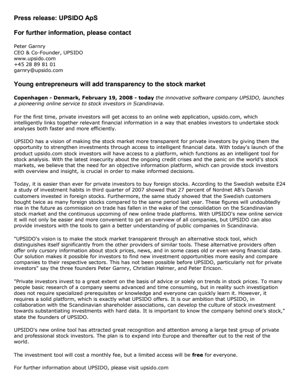 English press release in pdf
Laste ned | 0,05 MB | .pdf

Danish press release in word
Laste ned | 0,07 MB | .doc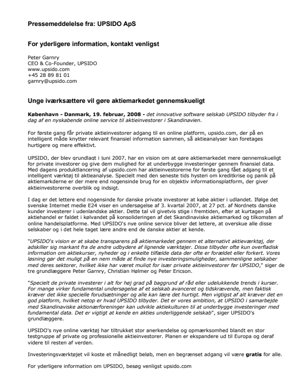 Danish press release in pdf
Laste ned | 0,06 MB | .pdf
Zip og laste ned alle filene