Pressemelding
oktober 11, 2010
Electronics
It's human nature to hold some of our possessions dear. From heirlooms passed on through generations to gifts from far-off lands, each occupies a special place in our hearts. A true treasure - like true love - is limitless.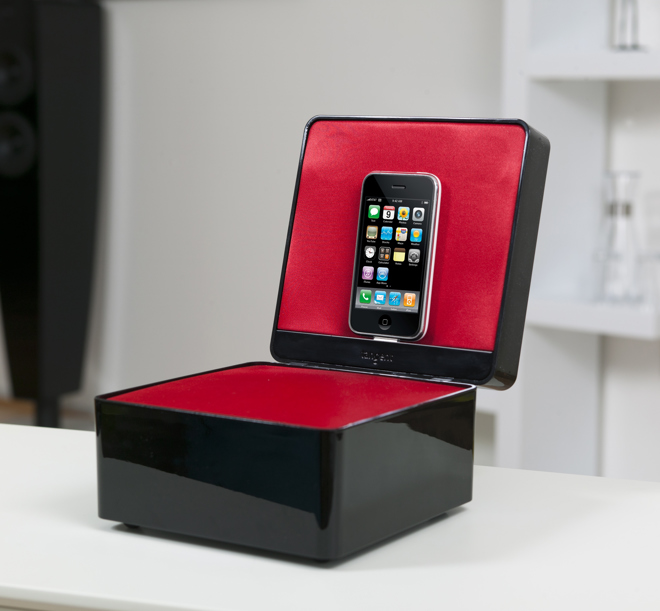 Many Tangent audio customers share the same love for their music collection. It's with them wherever they go, ever growing, ever eternal. And no matter the technology, their commitment to it never fades.
That's why the designer Jean-Yves Le Porcher together with the team at Tangent set out to create a docking station and loudspeaker solution for Apple products that reflected this same kind of love. New this season, the Tangent PearlBox is a glamorous, great-sounding solution for spreading the love.
Smooth, outside and inside
Looking sleek and simple at first glance, the Tangent PearlBox rests elegantly on the tabletop in front of you. Consciously designed to be free of any form of handle, button, or dial, the smooth shape is one of elegance. Just lift the lid, and the single iPod/iPhone dock is all you see amongst the silky-smooth fabric lining. Pop your Apple product on, and let the PearlBox take over.
The auto-detect function recognises the device on its own, engages the product's display, and is ready for operation. Leaf through your music collection as usual, and enjoy the powerful sound of the PearlBox without waiting. Great sound and great looks combine once again in a Tangent product. Your first thought of whether something that looks so smooth outside is indeed as smooth inside is confirmed.
A true treasure
"Music today for so many is a true treasure, filling up a major part of their lives. We agree, and have created the Tangent PearlBox to let these fans show off their prize possessions," says Torben Kristensen, Product and Sales Manager of Tangent. "Naturally, we wanted to make a product that sounds as good as it looks, so added a trio of powerful loudspeaker units to get the job done."
Treble above, bass below
Like in the audio spectrum, high-frequency treble effects are found at the top of the Tangent PearlBox, with twin 1" dome tweeters located in the lid. These high-performance driver units deliver sharp treble details during audio playback. What's more, the single 3" dual voice coil woofer pumps out midrange and low-frequency effects from the base section of the Tangent PearlBox.
Direct or remote operation
With an absence of buttons, the question of operation the PearlBox logically arises. Two solutions are possible: directly or remotely. Normal hands-on operation directly on the Apple device does not vary from when you're holding it in your hand. Remote operation of the iPod/iPhone takes place via the handy remote control that accompanies the PearlBox. The menu button on the remote control gives you access to the Apple device's menu.
Available in October, 2010
Tangent PearlBox is a certified "Made for iPhone" product, and will be available by end October 2010, at a dealer near you. It comes in two colour combinations: a high-gloss black cabinet with a red interior, and a high-gloss white cabinet with a silver interior. While individual prices may vary the suggested retail price is EUR 129,95.
Specifications
Woofer: 3" dual voice coil woofer
Tweeter: 2 x 1" dome tweeters
System output: Stereo 2x8 watt RMS
Dimensions(HxWxD): 110x180x180 mm
About Tangent
Tangent was established by a group of dedicated hi-fi enthusiasts, and within a few years, innovative designs established the company as a major specialist loudspeaker manufacturer. Consistently, its products were highly recommended by respected hi-fi reviewers both from the United Kingdom and beyond. Now based on more than 50 years of experience the product range includes table radios, loudspeakers and electronic components in contemporary design. Tangent has shown that fundamentally correct design can produce a product capable of achieving excellent performance at an affordable price.
More information on the Tangent PearlBox and all other Tangent consumer electronic products are available on tangent-audio.com or by contacting Torben Kristensen via e-mail ([email protected]) or on +45 9641 1500.
Emner
---
Electronics