Press release
mars 17, 2014
Nanna Ditzel
Rattan furniture
Rotting
Most of us are familiar with the iconic design of the egg shaped chair floating in the air. The Hanging Egg Chair is a critically acclaimed design that has enjoyed praise worldwide ever since the distinctive sculptural shape was created by Nanna & Jørgen Ditzel in 1959. From January 2014, the Danish manufacturer Sika-Design has undertaken the production of the Hanging Egg Chair and they are proud to work with this iconic piece of rattan furniture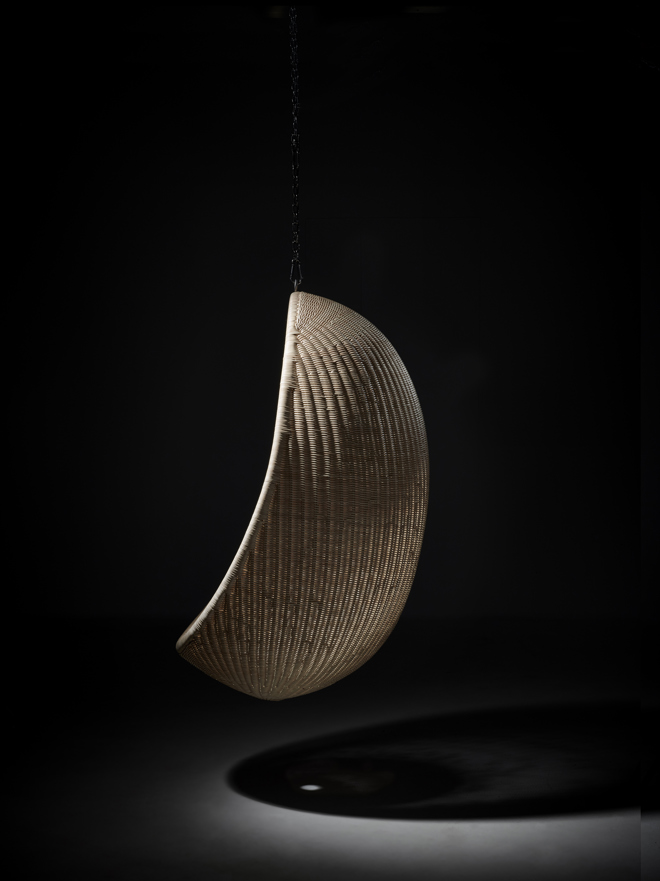 The Hanging Egg Chair has previously been manufactured by an Italian manufacturer, but now the iconic egg shaped chair returns to Denmark and the hands of manufacturer Sika-Design: "We have great admiration for Nanna Ditzel design, so it is an honour and great pleasure to take on the responsibility of manufacturing the Hanging Egg Chair. There are many hanging chairs on the market today not least among our own collections, but honestly, there is not a more beautiful or elegant model than this original from Nanna & Jørgen Ditzel. It is not without reason that the Hanging Egg Chair is often found on the top 10 of Danish design icons. We look very much forward to boost the sales of this world-renowned design icon on the European and American markets", says Louise Andreasen, Marketing Director, Sika-Design.
The design of the Hanging Egg Chair has long since been dubbed timeless whereas the material rattan had its golden age in the 1960s when skilled wicker makers and architects crafted beautifully sculptured furniture out of the challenging material. However, at the moment rattan is becoming more and more popular concurrent with consumer demands for sustainable products. This demand can be met by Sika-Design, who has continued to produce rattan furniture since 1942. With their latest collection ICONS, Sika-Design are bringing new life to old design sketches from significant Danish designers such Arne Jacobsen, Viggo Boesen and Wengler as well Nanna & Jørgen Ditzel.
In 2013 Sika-Design introduced three designs from Nanna Ditzel and Nanna & Jørgen Ditzel, namely Rana, Madame and Nanny. Their first Hanging Egg Chair was exhibited at the Stockholm Furniture Fair in February 2014. At Nanna Ditzel Design they are happy to see their chair return to the skilled hands of a Danish manufacturer: "I am very pleased that my parents' design has returned to Denmark. I believe that Sika-Design is a great match for our designs – they are also a family run business that dates back to the 1940s, so in many ways it feels just right to have this collaboration. I am confident that Sika-Design will be respectful towards the original design and I know they have the know-how and capacity to produce high quality rattan furniture", says Dennie Ditzel, Nanna Ditzel Design A/S.
Contact information:
Louise Andreasen, Marketing Director, Sika-Design
[email protected] Tel. +45 66 15 42 24
Jeanette Dalager, Marketing coordinator, Sika-Design
[email protected] Tel. +45 66 15 42 24
Subjects
---
Nanna Ditzel
Rattan furniture
Rotting