Press release
March 23, 2020

E-waste recycling company NamiGreen and broadcasting company MultiChoice makes history in both Namibia/Zambia as they are the first to move e-waste across the borders.
Press release
February 13, 2020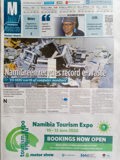 Republikein, Namibian Sun and Allgemeine Zeitung helps spread the word about e-waste.
Press release
November 15, 2019

Republikein and Namibian Sun are putting a focus on recycling e-waste with its latest piece on NamiGreen.