Press release
March 21, 2022

GoGift, a market leader within the gifting space, hit record-breaking results in 2021. GoGift is now ready to embark on a global growth journey with the launch of The Global Gift Card, the world's first cross-border and cross-currency gift card.
Press release
February 13, 2020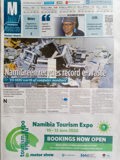 Republikein, Namibian Sun and Allgemeine Zeitung helps spread the word about e-waste.
Press release
August 3, 2016

For decades, the phenomenon of brain drain has troubled developing countries all over the globe. The countries have spent resources on educating business professionals in the belief that they would build the foundation of the country in the years to come. Instead the talented work force look to the Western world, where the opportunities seem numerous and promising.