Press release
March 23, 2020

E-waste recycling company NamiGreen and broadcasting company MultiChoice makes history in both Namibia/Zambia as they are the first to move e-waste across the borders.
Press release
August 28, 2019
NamiGreen was recently featured in NBC Namibia to explain how e-waste is processed at our Windhoek facility.
Press release
February 1, 2019

The millions of tons of electronic waste that the developed countries dump in other countries must be controlled, says the UN in a new report.
Press release
October 10, 2018

According to WHO, waste electronics (e-waste / WEEE) are polluting drinking water and harming ecosystems around the world when e-waste a improperly handled.
Press release
July 17, 2018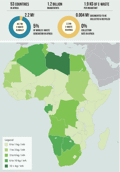 Certainly not! NamiGreen, an electronic waste management company ensure safe disposal of e-waste in Africa
Press release
July 16, 2018
Meaning more jobs and less toxic landfill
Press release
July 10, 2018

Toxic Electronic Waste should not go to landfills and toxic dumps
Press release
June 29, 2018
NamiGreen, an electronics waste (e-waste) company in Namibia founded in 2017, with the aim of creating local jobs, while doing something good for the environment is ramping up efforts to rid Namibia of it's e-waste.