Press release
October 14, 2020

Countries all over the world are celebrating International E-waste Day and Namibia too.
Press release
October 5, 2020

The Village in Windhoek and NamiGreen E-waste has announced a partnership to recycle e-waste from citizens and companies.
Press release
March 24, 2020

NamiGreen E-waste has partnered with the leading container storage company in Africa, Container World Namibia to increase e-waste collection rates.
Press release
March 23, 2020

E-waste recycling company NamiGreen and broadcasting company MultiChoice makes history in both Namibia/Zambia as they are the first to move e-waste across the borders.
Press release
February 13, 2020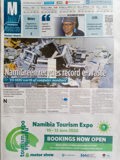 Republikein, Namibian Sun and Allgemeine Zeitung helps spread the word about e-waste.
Press release
February 12, 2020

Local e-waste joint-venture, NamiGreen, recycled the equivalent to 10,000 computer monitors in 2019 - a 100 % increase from previous year.
Press release
February 1, 2020

Ghana E-waste, an electronics waste (e-waste) company in Ghana, with the aim of creating local jobs and cleaning up the environment is ramping up efforts to rid Ghana of it's e-waste.
Press release
November 15, 2019

Republikein and Namibian Sun are putting a focus on recycling e-waste with its latest piece on NamiGreen.
Press release
October 31, 2019

NamiGreen E-waste was invited by the Ministry of Information and Communication Technology of Namibia (MICT) to speak that E-waste Management Workshop to present an overview of the private sector dealing with e-waste in Namibia
Press release
August 28, 2019
NamiGreen was recently featured in NBC Namibia to explain how e-waste is processed at our Windhoek facility.
Press release
July 4, 2019

Too often companies and individuals throw out their used and empty printer cartridges for inkjet printers and laser printers. That's bad - both for the environment for but also money-wise.
Press release
May 1, 2019

The Document Warehouse and NamiGreen announces partnership to work on the growing amount of used and broken computers, phones and electronics