Press release
November 3, 2021

Ecorobotics in Namibia has partnered with NamiGreen to aid citizens rid their electronic waste or e-waste.
Press release
June 8, 2021

Despite 2020 being a year with COVID-19 restrictions, Namibians have recycled more e-waste than ever. NamiGreen E-waste publishes their annual e-waste statistics.
Press release
February 13, 2020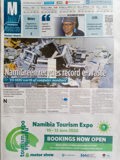 Republikein, Namibian Sun and Allgemeine Zeitung helps spread the word about e-waste.
Press release
February 12, 2020

Local e-waste joint-venture, NamiGreen, recycled the equivalent to 10,000 computer monitors in 2019 - a 100 % increase from previous year.
Press release
May 1, 2019

The Document Warehouse and NamiGreen announces partnership to work on the growing amount of used and broken computers, phones and electronics