Press release
October 11, 2007
Homes & Gardens
Louis Poulsen Lighting now expands the Enigma series with the Enigma 545 pendant. The series was developed in cooperation with Japanese designer Shoichi Uchiyama.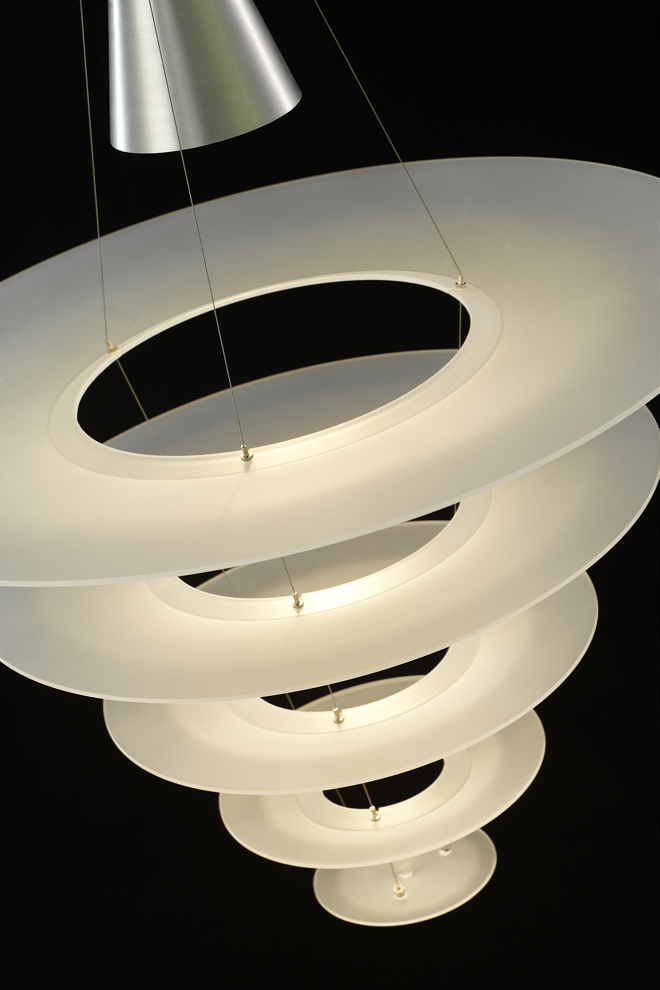 The two first Enigma pendants won extremely high acclaim in the market. All over the world, a multitude of people has in their interior design opted for the original fixtures, which create an illusion of illuminated wings floating the in the air. The pendants found their inspiration in Japanese lighting culture and share the lighting philosophy of glare-free, comfortable light with all other fixtures from Louis Poulsen Lighting.
From the first stages at the drawing table, the designer worked with different sizes. Enigma 425 is a flexible fixture suited for private homes, whereas Enigma 825 was designed for large rooms. The new Enigma 545 combines the best qualities of the first, two pendants. The new five-shade pendant displays a well-balanced, beautiful shape, ideal for both large and small rooms - in private homes, conference rooms, restaurants, stores and banquet halls.
Despite its completely pure design, Enigma 545 has an extremely sophisticated and superb light distribution. As the other pendants of the series, Enigma 545 emits both indirect light - light reflected by the shades - and agreeable, direct light, as the shades diffuse soft light, dispersing it into the entire room. Held together by an ultra-thin steelwire, the shades are acrylic with matt surfaces - a unique finish for acrylic which achieves the optimum, soft diffuse light. Its shade lower sides are polished, and the conical fixture heading made of brushed aluminium. Enigma 545 is fitted with 1x50W QR10. The reflector light source comes with the fixture.
Enigma 545 is easy to clean. It only takes one easy movement to remove or remount shades. The pendant comes in a small box which ensures safe transport and storage.
In 1977, Shoichi Uchiyama started as independent lighting designer in Tokyo. Since then, he has experimented with development of lighting fixtures with indirect light distribution.
Subjects
---
Homes & Gardens